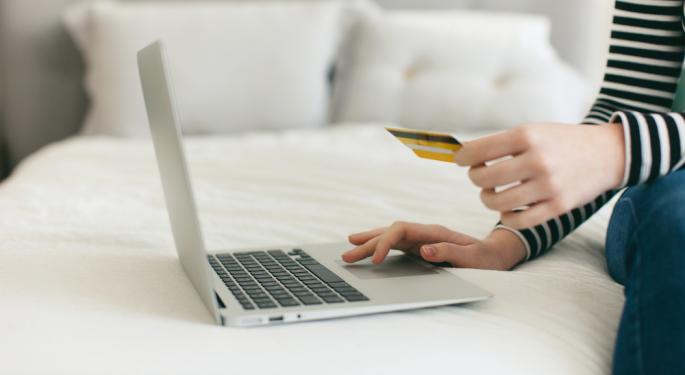 The dog days of summer are often a time of tumbleweeds for investors, with Wall Street lawyers and investment bankers off vacationing and not driving excitement with mergers and acquisitions, either real or rumored.
However, the online retail sector has recently given traders more than enough to renew their bullishness.
The Couch Commerce motif has risen 7.9 percent in the last month. During that same time frame, the S&P 500 has increased 0.5 percent.
In the past 12 months, the motif has gained 14.1 percent; the S&P 500 is up 4.4 percent.
As is often the case, online retail talk begins with sector giant Amazon.com, Inc AMZN 0.19%, whose shares comprise more than 18 percent of the Couch Commerce motif and are up 12 percent in 2016.
The company's earnings report late last month was another winner, with Amazon posting a quarterly profit of $857 million – the third quarter in a row in which it posted a record profit.
To be fair, much of the Amazon investment story is tied to its cloud computing business, which actually generated more operating income than the company's North American retail business. But it's also a mistake to ignore the huge impact from the company's retail operations, which produced nearly $18 billion in North American revenue in the last quarter.
Other retail-based tidbits from Amazon's recent earnings are similarly impressive. For example, it's now estimated that the company has 63 million U.S. subscribers to its Prime service – consumers who pay $99 a year for unlimited streaming media and free two-day shipping on most purchases.F As a recent Money.com article pointed out, Prime has turned into a gold mine even beyond the annual fee, as consumers who join it are shown to dramatically increase their spending on the site.
The impact of a Prime membership was best seen during the company's Prime Day sale for members on July 12 (a date not even included in the company's recent quarter). One estimate says the company drew 74 percent of all e-commerce sales in the U.S. on that day.
When you're a Jet
Of course, not every company is prepared to forever concede Amazon's massive market share in online retail. Wal-Mart Stores, Inc. WMT 1.96% recently struck a deal to purchase online startup Jet.com for about $3.3 billion in a move to shore up its own e-commerce strategy.
Wal-Mart has spent zealously to expand its online operations, including the building of massive distribution centers and starting a subscription service similar to Amazon Prime, at half the price. Now it adds Jet.com, which achieved a $1 billion gross merchandise run rate in a little more than a year and is adding 400,000 shoppers monthly.
A key Jet.com strategy has involved "gain sharing," luring buyers to add items to their orders to reduce shipping costs, and to pay with debit instead of credit cards to reduce transaction fees.
Wal-Mart's aggressiveness also makes sense when one considers the alternative – big brick-and-mortar retailers that are even further behind in converting their shoppers to online sites. Case in point: Macy's Inc M 0.44%, which announced earlier this month that it would close 100 of its department stores, due to the grueling competition with online retailers and discount outlets like TJX Companies Inc TJX 0.37%'s T.J. Maxx.
Shares of Macy's have fallen by more than one-third in the past 12 months, which has prompted its investors to call for sales of its real estate holdings – the company had already closed 41 stores in its last fiscal year. The company said that selling 100 more stores would generate about $1 billion in annual sales, but that some of the stores' real estate was more valuable than their retail sales.
That's the sort of misfortune that is likely music to the ears of investors in online retail stocks.
© 2016 Benzinga.com. Benzinga does not provide investment advice. All rights reserved.