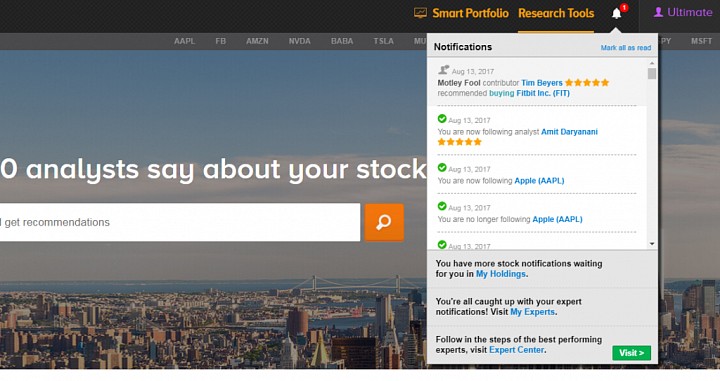 TipRanks has released an exciting new notifications feature to its homepage.
This new feature enables you to stay on track of all the latest activity on your stocks more easily and more effectively. Now you can always see the accountable opinion of financial experts on all your stock picks before making big investing decisions.
Our new dropdown list of notifications instantly reveals updates on stock and expert activity in real time – enabling you to keep your finger on the pulse of the market as soon you enter the TipRanks site.
The notifications are personalized for the experts and stocks that you have chosen to 'follow' by clicking the follow button included on every stock/ expert page.
Now let's take a closer look at all the elements of our unique new feature below.
How does it work?
First of all find the new bell sign included on the top bar next to the Research Tools menu:
The number in the red circle reveals how many new stock or expert notifications you have waiting for you. The result: you can be confident that you won't miss any crucial stock notifications or expert activity.
Now what?
Roll over the bell to see all the latest activity on all the stocks and experts you follow. The notifications cover a variety of essential updates. Let's now see explore the four different types of notification you will receive:
1 If you follow a stock you will be notified of any activity on that stock by financial experts. This means all new analyst ratings, blogger ratings, corporate insider transactions and hedge fund portfolio adjustments. You will also receive a notification when that stock publishes its next earnings date.
For example, I follow Valeant Pharma (VRX) so if you check out the notifications below, you can see that Jefferies analyst David Steinberg has reiterated his VRX buy rating. Note that you can click on the stock name to go to the TipRanks' stock profile page for deeper analysis.
2 If you follow an analyst: you will receive a notification any time that analyst publishes a new rating. Follow top-rated analysts with a four or even five-star rating to generate the highest returns on your investments. For example, Jefferies analyst Ken Usdin listed above has a very impressive success rate of 81% and average return of 19.2% across his 292 stock ratings.
The same holds true of any of the financial experts covered by TipRanks. For example, if you follow a corporate insider you will be notified any time that insider buys or sells shares in their company. All financial experts have a star rating so you can see at a glance if it is a top expert that you can trust.
3 Excitingly, you will also now receive an alert if any of the stocks you follow are trading up or down by 5% plus. This useful alert enables you to make quick adjustments to your portfolio based on real-time updates. This way you do not need to keep an eye on each of your stocks individually but can be instantly alerted on big price movements.
4 The notifications also give you a clear update of your selected stocks and experts. If you press the follow button on any of TipRanks 5,000 plus stocks or financial experts you will receive a notification like the examples below so you can easily monitor your own activity:
Finally the notification box includes links to some of the key TipRanks features including the My Holdings page in the award-winning Smart Portfolio platform and the Expert Center. The Expert Center is a compilation of the Top 25 analysts, bloggers, insiders and hedge funds on TipRanks.
And the coolest part is that you can see you have alerts even when you are browsing on another website. The TipRanks tab has now been updated to include the number of notifications you have to check out. See below how I can immediately tell that I have 9 updates on my followed picks:
Note that you can click 'Mark all as read' in the dropdown box to clear all the notifications in one go.
Plus…
We have also made some neat updates to the rest of the TipRanks site. Look out for the following:
Every time you add a stock to your portfolio, or an expert to your expert selection a blue notification will pop up confirming your decision and providing a link to the relevant portfolio page.
There is now a clear division between top experts you are already following and which experts you can still folllow. See here how the grey 'follow' sign on this top analyst profile shifts to 'following' once the expert has been added to your 'My Experts' page.
Finally, the eagle-eyed may also spot that the top TipRanks tab now includes more options than the previous version. The updated tab gives you easier access to some of TipRanks' most popular tools including Analysts' Top Stocks and Insiders' Hot Stocks. Click on the link to find fresh investing inspiration with these key tools.
Go to TipRanks and check out your notifications now
The post TipRanks Just Got Better: New Notification Feature appeared first on TipRanks Blog.