Acadia Pharmaceuticals (ACAD - Get Report) received approval from the Food and Drug Administration for Nuplazid on April 29. This is the first and the only drug available to treat patients with Parkinson Disease Psychosis. Despite the good news for ACADIA, its stock has fallen about 14% since the announcement.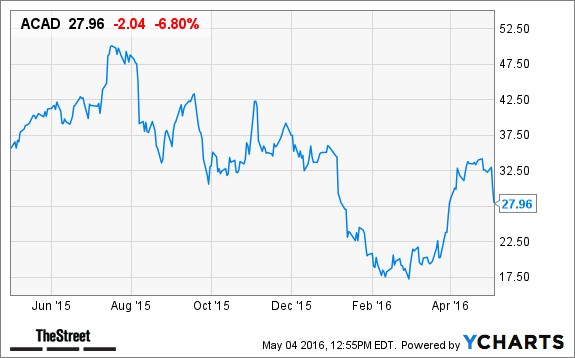 Some observers have written that the market had priced in the approval following an advisory committee's 12-2 vote at the end of March in favor of approval. In other words, they've suggested it's a typical case of "buy the rumor, sell the news." Additionally, there seem to be concerns about a slow launch, meaning it may take time for doctors to become comfortable with the drug. Lastly, some analysts only expect $1 billion in revenue a few years out.
It's true that the odds were strongly in favor of approval before the announcement, but investors also appeared to think the drug would get a very restrictive black-box warning. It received the same warning as all atypical antipsychotics, which means the labeling came out slightly ahead of expectations.
Must Read: Why Acadia Pharma's First Drug Approval Isn't Moving Stock Higher
The company announced on the conference call that it had hired it sales force and they had started training at the end of April. The company is preparing to launch the drug by June. Again, a June launch is a much faster launch than we expected. This was slightly ahead of expectations...
More