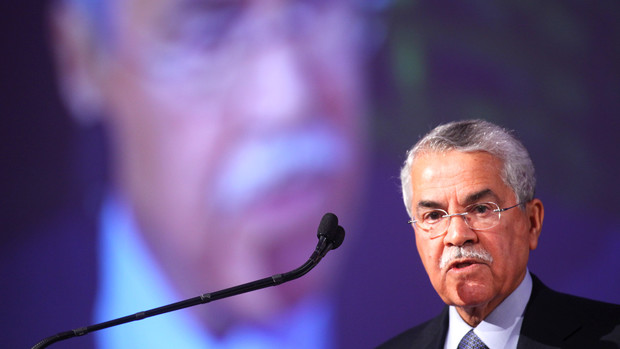 Photographer: Tim Boyle/Bloomberg
Oil prices "always fluctuate and this is normal," Ali Al-Naimi
Saudi Arabia will need to keep cutting oil output to sustain prices above $100 a barrel, even after the kingdom's largest reduction in two years, according to BNP Paribas SA and Societe Generale SA.
The world's biggest crude exporter told OPEC last week it pumped 408,000 barrels a day less last month, about as much asAustralia produces. Output rose in Iran, Iraq and Nigeria, adding to supply that drove benchmark Brent crude futures below $100 this month for the first time since June 2013. Saudi Arabia probably will have to cut a similar amount again to stabilize prices, the banks said.
Global oil demand growth this year will be the weakest since 2011, just as the U.S. shale boom means oil production from countries outside OPEC rises by the most since the 1980s, according to the International Energy Agency. The glut is prompting most of OPEC's Middle Eastern members, including Saudi Arabia, to cut prices to customers.
"We are swimming in crude, and they know that better than anyone because they are the biggest exporter," Mike Wittner, the head of oil market research at Societe Generale in New York, said by phone Sept. 9. "History shows that the Saudis will just do what's necessary."
Industrial Output
Brent crude traded at less than $99 a barrel today in London, within a range of $95 to $110 described as "fair" by Saudi Oil Minister Ali Al-Naimi at a meeting of the Organization of Petroleum Exporting Countries in June. It was at $98.77 as of 8:57 a.m. on the ICE Futures Europe exchange in London.
Futures fell to $96.21 on Sept. 15, the lowest intraday price in two years, as China's industrial output expanded at the weakest pace since the global financial crisis in 2008. China will account for about 11 percent of global oil demand this year, compared with 21 percent for the U.S., according to the IEA.
Saudi Arabia made the biggest contribution to OPEC's production cuts in 2008 and 2009 as demand contracted amid the financial crisis. The group took almost 5 million barrels of daily output off the market, reviving prices from about $30 at the end of 2008 to almost $80 a year later.
The kingdom "will act to stabilize and then shore up the oil price, not only because it is in its interest, but in the interest of fellow OPEC members in the Middle East," Harry Tchilinguirian, BNP's head of commodities markets strategy in London, wrote in an e-mail Sept. 11.
A Saudi Oil Ministry media official declined to comment on the nation's policies when contacted by phone yesterday, asking not to be identified citing government policy.
Government Budget
Brent will average $107 in the fourth quarter and $105 in 2015, according to the median of as many as 31 analyst estimates compiled by Bloomberg. Brent may average $90 in the fourth quarter if Saudi chooses not to keep cutting output, according to Societe Generale's Wittner.
Petroleum exports account for about 90 percent of Saudi Arabia's state budget. King Abdullah announced $130 billion of investment in 2011 to create jobs and a $500 billion plan to build cities in the desert started last year.
Saudi Arabia may also want to boost oil prices to aid Iraq, the second-largest OPEC producer, as it battles the spread of Islamic State in the north, according to Tchilinguirian.
Saudi Arabia will probably reduce production by a further 500,000 barrels a day in the fourth quarter as the summer peak in domestic demand for power generation passes, according to Julian Lee, a strategist at Bloomberg News in London. The kingdom burned 827,000 barrels a day to generate power in June, the most in four years, according to the Riyadh-based Joint Data Initiative.
Oil Prices
OPEC officials, including Saudi Arabia's Naimi, have said they see no urgent need to respond to the drop in oil prices, which are still more than twice their level a decade ago.
Prices "always fluctuate and this is normal," Naimi told reporters in Kuwait on Sept. 11. The decline is a seasonal fluctuation and prices will recover by the end of the year, Secretary-General Abdalla El-Badri said in Vienna yesterday. The group's output may fall to 29.5 million barrels a day next year from about 30 million currently, El-Badri said.
There may be incentives for Saudi Arabia to let oil continue its decline, according to Bank of America Corp. and DNB ASA, Norway's biggest bank.
Allowing Brent to fall below $85 could slow the U.S. shale boom because some producers would lose money pumping at that price, Francisco Blanch, head of commodities research at Bank of America, said in a report Sept. 9.
U.S. crude output will climb by 1 million barrels a day to 9.53 million next year, the most since 1970, Adam Sieminski, the administrator of the U.S. Energy Information Administration, said in a statement Sept. 9.
Fiscal Firepower
Curtailing the shale boom would ensure continued U.S. reliance on Middle Eastern energy, Bank of America's Blanch said. Saudi Arabia's crude exports to the world's biggest oil user fell to 1 million barrels a day in June, compared with an average of 1.4 million in the first five months, according to the IEA, a Paris-based adviser to 29 industrial nations.
"For Saudi Arabia, I can't see why they'd come in and manage prices unless it falls below $90," Torbjoern Kjus, an analyst at DNB in Oslo, said by phone Sept. 10. "It benefits the Saudis to test where the limit is for U.S. shale."
OPEC's de facto leader has the "fiscal firepower" to tolerate prices as low as $70 for two years without experiencing economic difficulties, according to Energy Aspects Ltd., a consultant in London. The kingdom held reserve assets valued at $741.6 billion in July, almost double the level five years earlier, according to the Saudi Arabia Monetary Agency.
Discount Reversed
Saudi Arabia shouldn't focus on price levels alone, according to Seth Kleinman, the head of European energy research at Citigroup Inc. in London.
Production cuts are necessary to reverse the discount on immediate versus later deliveries of crude, a market structure known as contango which encourages traders to stockpile crude, he said. That stored oil can return to the market outside of the kingdom's control, potentially thwarting efforts to stabilize prices, he said.
"This market's clearly significantly oversupplied," Kleinman said by phone. "It's not just the $100 mark, which everyone's looking at, it's the fact you've got this steep contango."