First of all, I would like to wish the displaced residents in Alberta the strength to get through these tough times. Here's the latest I have read about the wildfire: Fort McMurray wildfire 'may be turning the corner', officials say.
Sounds like maybe the fire is finally being contained. 
Now, turning to the world of currencies, I want to take a look at a buy opportunity in CAD/JPY.

First of all, we saw a disappointing jobs report on Friday:
Canada sheds 2,100 jobs in April as Alberta weighs (Reuters). The jobs report initially pressured the CAD/JPY, but the market seems to have already reversed that reaction to start the week, as today's high is already above Friday's high.
CAD/JPY has been a choppy pair since the start of the year. 
CAD/JPY Daily Chart 5/9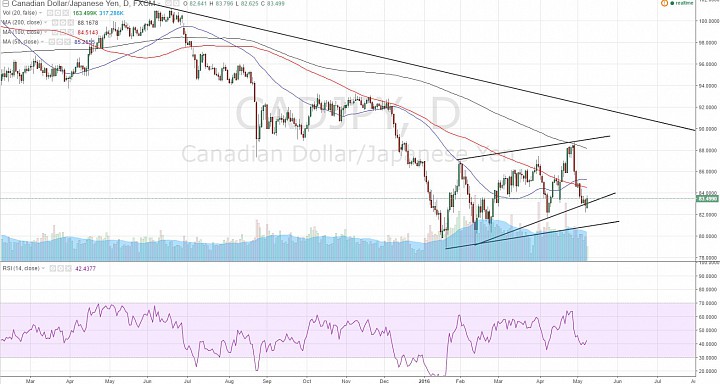 (click to enlarge)
As we can see from the daily chart, CAD/JPY was bearish heading into the year, falling to 79.00 in January. Since then, it has traded sideways with a slight bullish bias. Essentially, it has been consolidating after a bearish trend. 

So there are 2 characteristic we are seeing: 1) Choppiness 2) sideways to slight bullish bias (based on the evidence of higher highs and higher lows since January). 

With these 2 conditions in mind, today's potential bullish engulfing candle could be a signal to buy. 

CAD/JPY 1H Chart 5/9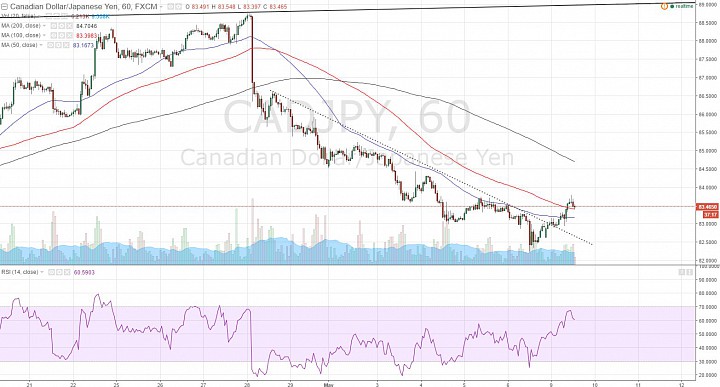 (click to enlarge)

Looking at the 1H chart, we can see that price just made a higher high than the one of the 5th. This breaks a pattern of lower highs. Now, we have to see if the market will support the CAD/JPY if it dips towards the 82.25 low. 

I think if price can hold above 83, it would be a strong indication that a bottom is forming. In fact, that would be the premise of an inverted head and shoulders pattern.

Here are the bullish targets:
1) 84.50 - a support/resistance pivot area. The 200-hour simple moving average will also likely be around there by the time price gets there.
2) 85.65-86.00 - a vague support/resistance pivot area. 
3) 86.50 - another support/resistance pivot. 

Now, these are conservative targets and do not consider the potential of coming back to the April high, or even pushing towards 89. While these scenarios are possible, we have to keep in mind of the prevailing trend in the daily chart that has not been broken. Also the bullish idea is within a sideways/consolidation market. Even though there is a bullish tilt, we should limit the expectation because the market is not bullish.

I think the most aggressive target for me at the moment would be the 87-87.25 area, which represents a common resistance in February and March.