Sell strangle to get 8% on Facebook in a week. The stock will NOT go up or down more than 15% next week

28 april 2016
Facebook impressed yesterday with their earnings. This is the only company that grew up after the earnings call among FANG stocks (Amazon will report this evening). Netflix and Google as we know dropped significantly, and moreover, NFLX keeps going down. When the stock soars on such news as their earnings announcement, it will most likely have the slowdown in volatility for about a month or so. 
Facebook creates this chance to use the jumped volatility (the same situation we saw with Apple and here is my strategy, that I posted right after Apple's earnings). Basically, the idea is very simple - sell deep in money call and put options. Initial outlay is the following:

As you can see, we are selling 6th May $111 Call and 6th May $128 Put for $2705. And we'll get the following PL profile: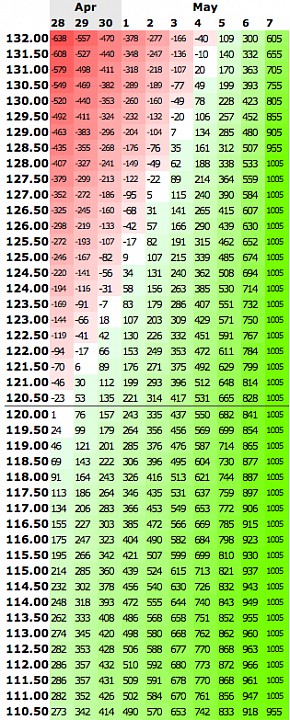 What we can get from this profile:
1) maximum return when the stock is in the range between $111 and $128 by the end of the next week
2) less return when the stock is in the ranges $101-111 and $128-138
3) losses if the stock goes lower than $101 or higher than $138
In the first case, the stock can go 7.5% higher or 9.3% lower and we still get 8.4% return in a week. It doesn't look that bad, right? According to the second case, we still get some profits even if the stock falls 14.5% or grows 16%. The return will be slightly less than 8%, but do you think that FB can go that high or low in just a week? There is a small possibility that it happens at some point of time. But the chances are really low. 
And the last case, the most conservative, the stock falls more than 15% or goes up more than 16%, do you think that FB can make such a significant jump in a week? I am pretty sure that the risk of going beyond this range is very low. So just in a week you can get up to 8.4% return on this strategy, if you own 100 shares of course. If not, that's a good chance to earn $1,000 on it. 
P.S. This is a forecast, vote AGREE if you think that the stock will stay in the range of $101-138 next week. And DISAGREE if you think it can go beyond this range. Let's check if you can handle the volatility.