Paychex provides payroll, human resource, insurance, and benefits outsourcing solutions for SMB in the United States and Germany. The company's stock price grew up more than 17% over the last several weeks. 
<!== INSTRUMENT %% %60% ==!>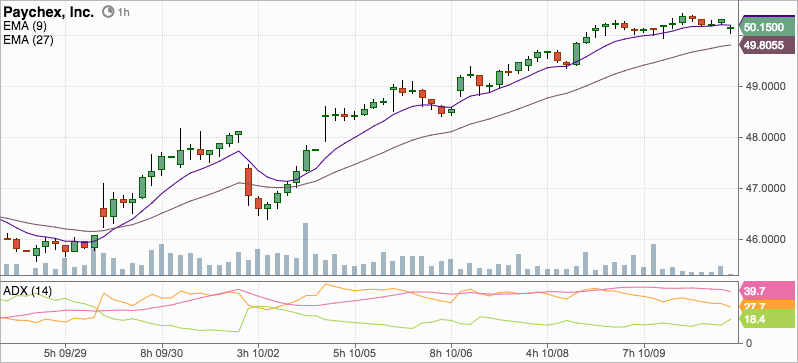 Note: company's fiscal year finishes on 31st of May
Let's check if the company can grew up its market capitalization. First of all we need to understand the revenue drivers - Paychex collects its revenue from two main services: Payroll services and HR services (mostly for medium-sized business). The main revenue driver is the customer base, or a number of clients.
Number of clients is growing, 3-y CAGR is around 1.2% for the payroll services and 7.4% for the HR services. I think that the company is able to continue its expansion and increase its number of clients over the next several years. The growth rate is not too high, so the main assumption is that the company is able to keep the same level of customer base growth rate. HR services become more popular among the clients and more often HR system is included in the Paychex software.
Average revenue per account
I have previously mentioned that mostly medium-sized business is the target client for HR services. Hence, ARPA of the HR services division is higher than Payroll services. HR services ARPA is around $2,808 (3-y CAGR +4.01%) and Payroll services ARPA is around $1,041 (3-y CAGR +1.31%). I think that the company will keep the same growth rate for the ARPA.
Operating expenses (customer acquisition cost)
Paychex does not have the separated lines for sales and marketing and G&A, hence, our calculation of customer acquisition cost will be approximate. Paychex spent around $62K for each new client in 2014 fiscal year and around $68K in 2015. However, over the last three years the company could keep SG&A at the same level as % of revenue - around 32.5%. So another assumption is that Paychex will be able to keep the same level of SG&A expenses. If that happens, the company can increase its customer acquisition cost to around $101K. Hence, the company has a good financial reserve to increase its costs. 
Summary
The company increased its operational and financial metrics, has lots of potential to increase its financial results over the next several years. I think that this is a good investment opportunity. Moreover, the company has 3.3% dividend yield, so I consider Paychex as a stable stock with more or less understandable yield.