Investment firm made previous takeover attempt for Popeyes
Restaurant chain lost battle with activist investor Marcato
Roark Capital Group, the private equity owner of Arby's, Carl's Jr. and other fast-food brands, is hungry for chicken.
The firm, which backed an unsuccessful takeover attempt for fried-chicken chain Popeyes Louisiana Kitchen Inc. within the past year, made an all-cash offer for Buffalo Wild Wings Inc. last month, according to a person familiar with the matter. The deal would value the company at more than $2.3 billion, said the person, who asked not to be identified because the discussions are private.
News of the potential deal, which would top $150 on a per-share basis, sent the stock up as much as 28 percent to $149.65 Tuesday in New York, the biggest intraday jump in more than eight years.
The takeover bid follows a tumultuous year for Buffalo Wild Wings, which lost a proxy fight with activist investor Marcato Capital Management in June -- a battle that caused longtime Chief Executive Officer Sally Smith to announce her resignation. The Minneapolis-based company came under fire after a sales slump was exacerbated by higher prices for chicken wings.
The company's shares had lost value in each of the past two years, following a seven-year streak of gains.
The Roark proposal was made on Oct. 13 at a 48 percent premium to Buffalo Wild Wings's share price at the time, according to the person familiar with the situation.
While Buffalo Wild Wings has acknowledged receipt of the bid, the two companies haven't held talks about a potential deal, the person said. The Wall Street Journal first reported on the approach by Roark.
Representatives for Buffalo Wild Wings didn't respond to requests for comment. A spokeswoman for Roark declined to comment.
Roark Capital is a prominent player in the restaurant industry, with investments in chains such as Cinnabon, Carvel and Auntie Anne's.
Popeyes Bid
The earlier bid for Popeyes would have involved Arby's merging with the chain, people familiar with the matter said earlier this year. The suitors were ultimately trumped by Restaurant Brands International Inc., which bought the fried-chicken brand for about $1.8 billion.
In going after Buffalo Wild Wings, the investment firm is eyeing a company on the rebound.
Last month, the company boosted its earnings forecast -- helped by an effort to cut costs. The company also is selling more boneless chicken wings, rather than the traditional variety. That's helped Buffalo Wild Wings sidestep a surge in wing prices.
"We are optimistic these actions will deliver an improving bottom line," Smith, who plans to retire by the end of the year, said last month.
— With assistance by Kiel Porter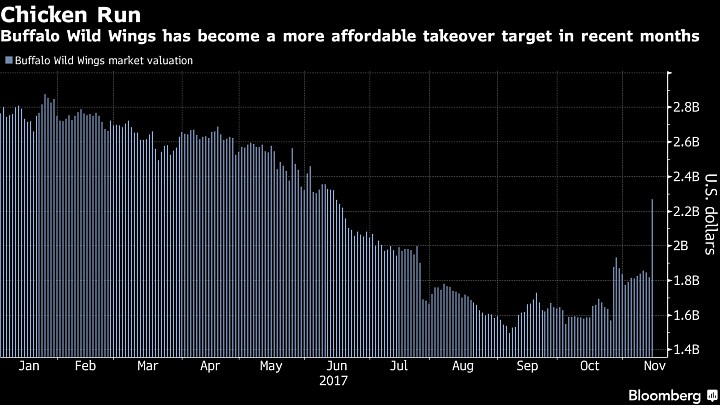 More