USD/CAD has been in a choppy but bullish mode since May. It has "chopped its way up to almost 1.34 before finding sellers. 

USD/CAD Daily Chart 10/25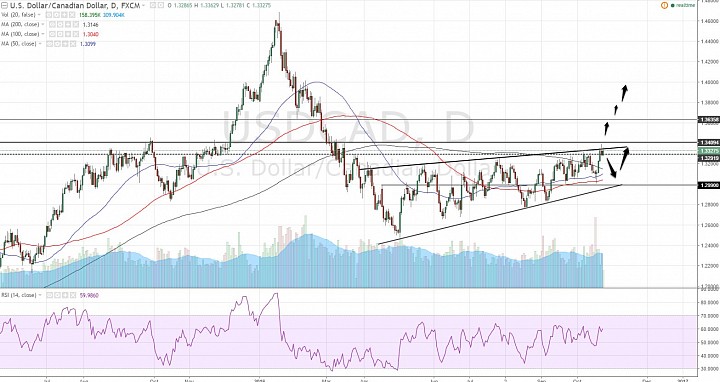 (click to enlarge)
1.34 is critical resistance:
- You can call this a wedge, or a channel - the point is that price is tagging the projected resistance.
- This area just under 1.34 is also a resistance zone going back to August 2015. 
- The prevailing choppiness warns that a bearish swing could be next. 
- However, the fact that price has been able to come up above the cluster of 200-, 100-, and 50-day simple moving averages (SMAs) suggest that there is a potential of turning bullish.
- Perhaps there is a threshold at 1.34, above which the mode would switch from choppy to a sharper bullish push. 
- In this scenario, I would first look for targets at 1.3635 and 1.38. 1.40 would be the most aggressive bullish outlook for a clear break above 1.34.
1.30 is critical support:
- Now, if price retreats further from 1.34, it means USD/CAD is still choppy.
- But, the prevailing bullish component of price action suggests that the pair should hold above 1.30. 
- A break below 1.2990-1.30 on the other hand would break the bullish channel/wedge and would open up the bearish outlook.
- Most likely, if USD/CAD is indeed bullish, it should find support around 1.3150, a support.resistance pivot area seen in the 4H chart. 
- If the market does hold USD/CAD above 1.3150, I would be more confident that it would eventually break 1.34 and push higher in a sharp manner. 

USD/CAD 4H Chart 10/25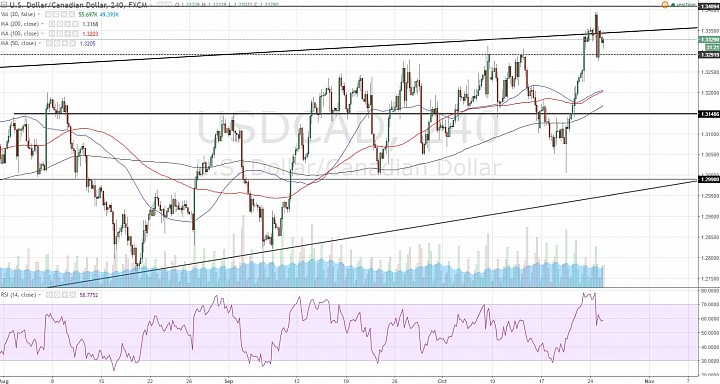 (click to enlarge)