GNC Holdings, Inc. GNC is a leading global specialty retailer of health, wellness and performance products, including vitamins, minerals and herbal supplement products ("VMHS"), sports nutrition products and diet products. The company has a worldwide network of more than 8,900 locations.
Currently, GNC Holdings has a Zacks Rank #4 (Sell) but that could change following its promising second quarter 2017 earnings report which has just released. (You can see https://www.zacks.com/stocks/buy-list/?ADID=zp_1link&ICI... _1link">the complete list of today's Zacks #1 Rank (Strong Buy) stocks here).We have highlighted some of the key details from the just-released announcement below:
Earnings: The current Zacks Consensus Estimate is pegged at 40 cents per share. GNC Holdings' second quarter 2017 adjusted earnings per share of 41 cents surpassed this estimate by a penny.
GNC Holdings, Inc. Price and EPS Surprise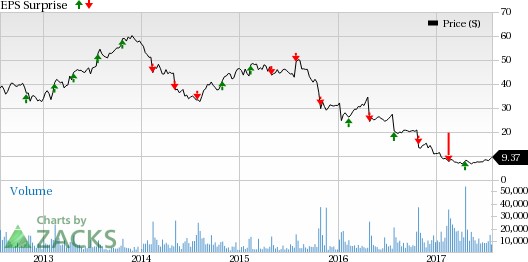 GNC Holdings, Inc. Price and EPS Surprise | GNC Holdings, Inc. Quote
Sales: GNC Holdings posted sales of $640.9 million in the reported quarter, which missed the Zacks Consensus Estimate for revenues of $648 million.
Key Stats: Revenues in U.S. and Canada segment decreased 4.8% to $543.4 million. Revenues from manufacturing/wholesale segment (excluding intersegment revenue) decreased 8.9%, to $53.9 million compared with $59.35 million in the prior year quarter.
Major Factors: The company's One New GNC plan has witnessed transformational changes. Management is encouraged by positive trends in transactions and by the early performance of its new loyalty programs. As of the end of the second quarter of 2017, 7.3 million consumers joined the myGNC Rewards Program. Also GNC Holdings' transaction growth continued in the second quarter 2017, up 12.3%, resulting in sequential improvement in same store sales. The company also launched a GNC storefront on Amazon which continues to exceed the company's expectations.
Stock Price: Following the earnings release, share prices surged 11.9% in the pre-market trading session.
Check back later for our full write up on this GNC Holdings earnings report later!
More Stock News: Tech Opportunity Worth $386 Billion in 2017
From driverless cars to artifical intelligence, we've seen an unsurpassed growth of high-tech products in recent months. Yesterday's science-fiction is becoming today's reality. Despite all the innovation, there is a single component no tech company can survive without. Demand for this critical device will reach $387 billion this year alone, and it's likely to grow even faster in the future.
Zacks has released a brand-new Special Report to help you take advantage of this exciting investment opportunity. Most importantly, it reveals 4 stocks with massive profit potential. See these stocks now>>
Want the latest recommendations from Zacks Investment Research? Today, you can download 7 Best Stocks for the Next 30 Days.
Click to get this free report
GNC Holdings, Inc. (GNC): Free Stock Analysis Report
To read this article on Zacks.com click here.
Zacks Investment Research