Last week
I wrote about the EUR/AUD
as a pair that may extend its recent gains as the AUD has been very weak, and the EUR has had a strong month.
Today, let's look at the hourly chart instead of the daily:
<!== INSTRUMENT %% %60% ==!>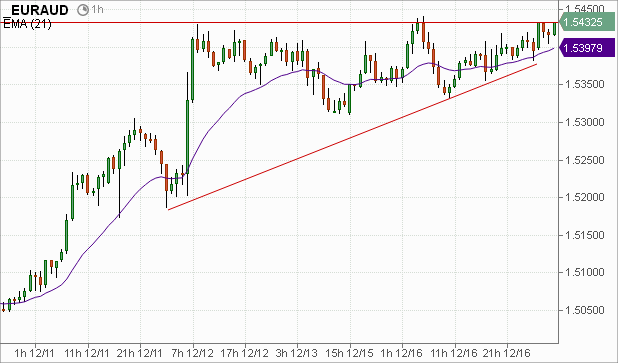 Pretty clear pattern here, and ascending triangle in the midst of an uptrend. If we get a break of the resistance at 1.5435 we are likely to see the next leg of the upswing. We can measure the move from top to bottom using the "base" of the triangle, for me that is around 1.52. the height of the triangle is then around 235 pips, which means we could be targeting (1.5435 + .0225) around the 1.566 level.
For a look at the weekly levels, see the
post on EUR/AUD from last week
.