Facebook Inc And Alphabet Inc are looking at payments business to grow their revenues.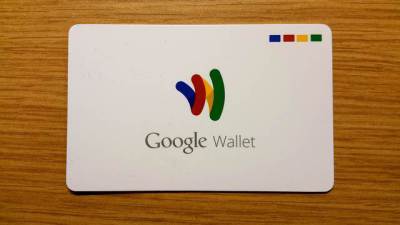 Google, which is a subsidiary of Alphabet Inc-C (NASDAQ:GOOG) recently launched 'Tez', a mobile payment app. 'Tez' is Google's latest attempt to crack the digital payment business and piggyback on the fast growing digital payments market in India. The app will allow you to link up your phones to your bank account and transfer money to your family, split a dinner bill with friends, or pay the neighborhood store. It allows customers to transact through a unique ID without having to share bank information. Google is not the only one. Facebook Inc (NASDAQ:FB) is also likely to join the party. Facebook has indicated that it will launch peer-to-peer payment systems later this year.
Facebook Inc. is likely to join the party.
With ad load saturation weighing heavily on the Facebook stock, the company is increasingly looking to monetize it's WhatsApp messaging platform. The company had just recently launched commercial messaging services in India and several other developing countries. WhatsApp is now looking to launch peer-to-peer digital payments service in India. India is a logical choice for several reasons. Not only does the digital payments market in the country have a huge potential, WhatsApp is also the most used messaging service in India. India is also WhatsApp's largest market with over 200 million users. This huge user base gives WhatsApp a strong advantage. A few months back, Hike became the first messaging service to launch a peer-to-peer payment service in India. WhatsApp is an important driver for Facebook stock. FB stock is part of our top stocks to buy portfolio.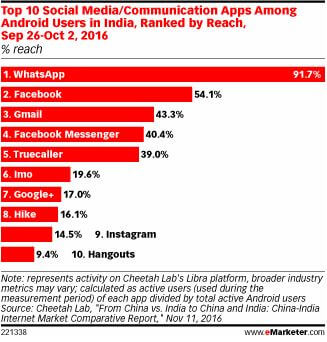 Digital payment market in India is expected to grow 10x to $500 billion.
India is currently a highly cash-driven economy, with non-cash payments making up just 22% of overall consumer payments. But according to a report by Boston Consultancy Group (BCG) and Google, this will change in the next few years. By 2023, non-cash transactions will overtake cash transactions in the country. The study goes on to conclude that the digital payment market in India will grow by 10x to $500 billion by 2020. That's a massive growth opportunity. Digital payments have already been growing above 50% CAGR over the last few years.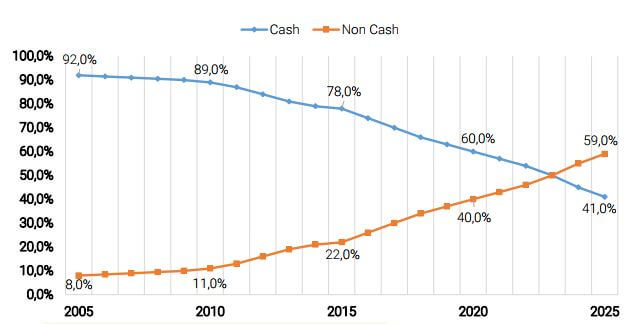 What will drive this massive growth?
According to BCG, a combination of factors will drive the digital payments sector in India. Rising smartphone users and internet penetration coupled with strong government support will be the key drivers. Smartphone users are expected to more than double from 240 million to 520 million by 2020. Internet users are expected to grow by 2x, from 300 million to 600 million. The simplification of KYC norms through the Unique Identification number will make it more convenient for people to open a bank account which will give further impetus to digital transactions.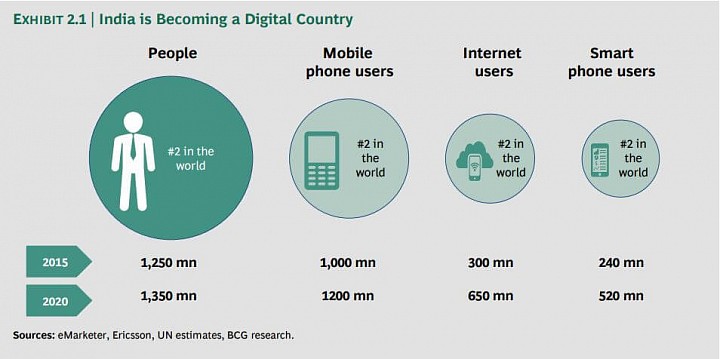 Already a crowded market with a dominant player.
While the digital payment market in India has a massive potential, Google is not the only one to identify this huge opportunity. The digital payment market in India is already flooded with several mobile wallets including Alibaba-backed Paytm, Tencent-backed Hike Messenger, MobiKwik, FreeCharge, Oxigen, Citrus Pay, Phone Pe, PayU, ItzCash, Jio Money and Ola Money. Alibaba-backed Paytm currently dominates the market with a 57% market share.
The payment app will use innovative technology.
Google is banking on technology to beat the competition. This is not the first time Google is attempting to crack the digital payments business. The company had earlier launched Google Wallet, which allowed you to pay for stuff both in stores and online using your smartphone. When the service did not meet the desired results, the company later launched Android Pay. Android Pay has been showing strong growth with users growing from 2 million in 2015 to 24 million by 2017. However, Android Pay is based on Near Field Communication (NFC) technology, which is a big hurdle in India.
The 'Tez' app comes with Audio QR feature. Audio QR uses ultrasonic sounds to let you exchange money, bypassing any need for NFC. The AQR (Audio QR) used by Google is its proprietary technology, "which is similar to QR codes but more convenient and more secure," according to the company. In India, where most of the smartphones are sub $200 category, NFC is not a ubiquitous feature, while AQR will work on almost any smartphone in India, whether Android or iOS. AQR allows you to transfer money without entering bank details. Just bring two phones near each other, hit pay or request, enter your UPI PIN and the payment goes instantly from one bank account to another. P2P payments are expected to grow by $45 billion to $56 billion by 2020.
AQR could also solve another important problem for Google. Only 700K to 800K merchants in India accept card payments due to lack of infrastructure. The potential is at over 15 million outlets to accept digital payments. AQR will reduce the need for POS devices as money can be transferred from consumer to merchants bank account just by getting the mobile phones together. P2M payments are expected to be the biggest driver, growing by $200 billion to $224 billion by 2020.
Google's Tez will also be available for businesses, giving merchants their own business channel so that they can engage directly with customers to share offers and send payment reminders. And while the digital payment initiative will add to the top line, it will also give companies access to another important resource: users data. Companies like Google and Facebook thrive on user data. All in all, launching a payment app in India is a right move by Google, given that the digital payment market is expected to grow by 10x to $500 billion by 2020.
Looking for fundamentally better tech stocks? Check out Amigobulls' top stock picks from the tech sector, which have beaten the NASDAQ by over 163%. Interested in automotive stock? Then, we also have our top picks from the auto sector, which have beaten the S&P 500 by a massive 258%. If you're a trader though, you should check out our daily trading ideas section for daily, free updates on the latest crossovers and other popular technical signals.
More