Yesterday, I noted that based on price action and technical analysis, bulls seem to be winning the battle in AUD/NZD.
AUD/NZD - More Evidence that Bulls are Holding Ground
AUD/NZD Daily Chart 4/22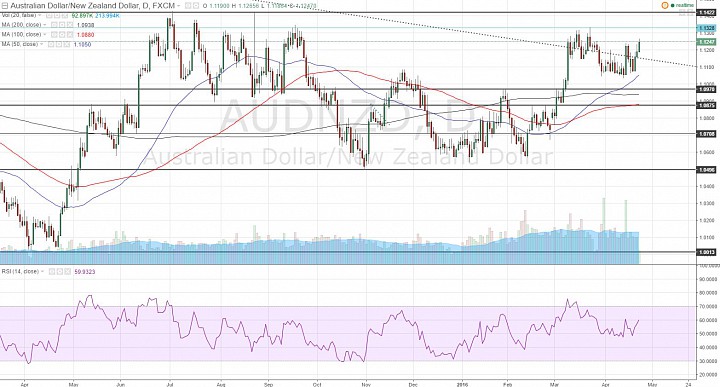 (click to enlarge)

From the daily chart, we can see that price indeed looks like it is attempting a bullish continuation swing after a period of consolidation in the past month, since mid-March. It looks like the high of 1.1420 back in 2015 could be tested in April/May. 

AUD/NZD 4H Chart 4/22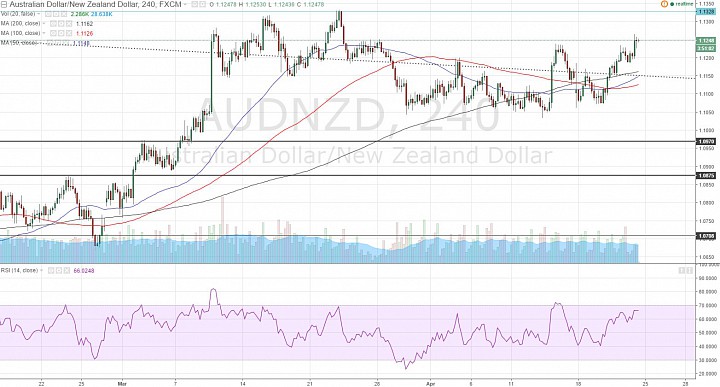 (click to enlarge)
I must say that trading AUD/NZD was challenging because of the whippiness. But we did see a clear support at 1.1050. Then, we had that blast off last Thursday. 

I placed 3 entry orders here back around. I had one position where my stop was tight, and the other 2 with stop below 1.1050. Subsequently, I was able to keep 2 long positions, one of which reached the target of 1.1230, around last week's high. Now, my last position has a target of 1.13, maybe 1.1350 if price starts to accelerate. 

(Note that after price came back down to about 1.1060, the RSI was also back to 40. I always talk about this method of buying on a dip after a breakout. This doesn't always happen, and you will miss some trades that don't make a deep retracement. But it is usually better for reward to risk, and timing). 

I am being very conservative because the market is so choppy. Also, because it is choppy, I am anticipating a chance to re-enter long after taking profits. The 1.1420 high is still in sight, and if price breaks above 1.1450, we are likely seeing an even longer term uptrend, in which case, I think we still have a chance to put in a few long trades here .