BorgWarner Inc. BWA has announced that it has inked a definitive deal to acquire Gateshead, U.K-based electrical engineering company Sevcon, Inc. It is expected that Sevcon's electrification capabilities will complement the Michigan-based BorgWarner's power electronics capacity used for providing electrified propulsion solutions.

The anticipated enterprise value of the deal is around $200 million. The deal is likely to be completed in fourth-quarter 2017, subject to satisfaction of certain customary closing conditions.

BorgWarner is a leading manufacturer of powertrain products for major automakers. Its products include four-wheel-drive and all-wheel-drive transfer cases (primarily for light trucks and sport utility vehicles or SUVs), as well as automatic transmission and timing chain systems. For BorgWarner, this acquisition is likely to be accretive, as it supports the strategy of supplying necessary technology for all types of propulsion systems.

BorgWarner has outperformed the Zacks categorized Automotive - Original Equipment industry in the last three months. The stock rose 19% compared with the industry's gain of 15.1% during the period.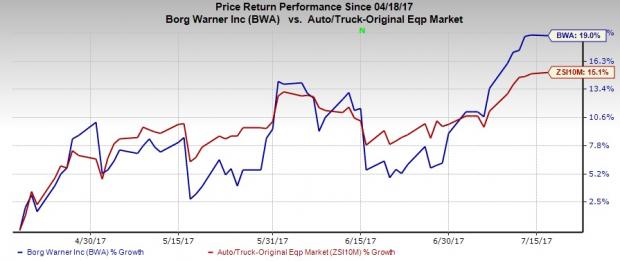 BorgWarner currently carries a Zacks Rank #3 (Hold).

Some better-ranked stocks in the auto space are Allison Transmission Holdings Inc. ALSN, Fox Factory Holding Corp. FOXF and Horizon Global Corporation HZN. While both Allison Transmission and Fox Factory sport a Zacks Rank #1 (Strong Buy), Horizon Global Corporation carries a Zacks Rank #2 (Buy). You can see the complete list of today's Zacks #1 Rank stocks here.

Allison Transmission has an expected long-term growth rate of 11%

Fox Factory has an expected long-term growth rate of 15.9%

Horizon Global Corporation has an expected long-term growth rate of 15.5%

5 Trades Could Profit "Big-League" from Trump Policies

If the stocks above spark your interest, wait until you look into companies primed to make substantial gains from Washington's changing course.

Today Zacks reveals 5 tickers that could benefit from new trends like streamlined drug approvals, tariffs, lower taxes, higher interest rates, and spending surges in defense and infrastructure. See these buy recommendations now >>
Want the latest recommendations from Zacks Investment Research? Today, you can download 7 Best Stocks for the Next 30 Days.
Click to get this free report
Fox Factory Holding Corp. (FOXF): Free Stock Analysis Report
BorgWarner Inc. (BWA): Free Stock Analysis Report
Allison Transmission Holdings, Inc. (ALSN): Free Stock Analysis Report
Horizon Global Corporation (HZN): Free Stock Analysis Report
To read this article on Zacks.com click here.
Zacks Investment Research