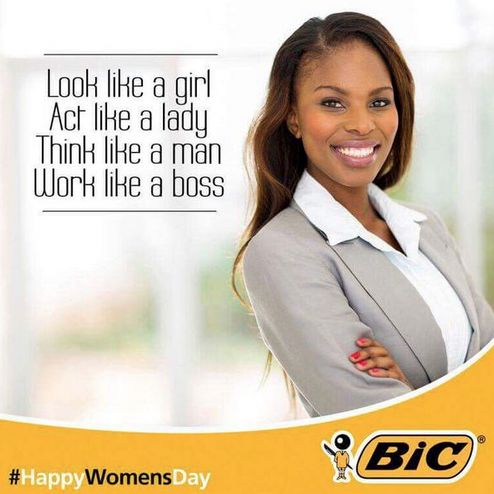 Bic South Africa recently released a Women's Day ad that created some currents within the social media community (NYSE: TWTR), according to The Guardian.
The advertisement read:
"Look like a girl, act like a lady, think like a man, work like a boss #HappyWomensDay."
Along with the message, it pictured a woman smiling and dressed in a suit, according to The Guardian. Almost immediately, the social media community began issuing backlash against the ad.
"Why am I expected to look like a child? Why am I expected to see the world through a masculine lens? Why am I expected to 'think like a man' but not expected to 'act like a man' on my so-called manly thoughts?" one writer published, according to The Guardian.
The company removed the advertisement soon after and issued an apology for the social noise it called. Upon pulling the ad, Bic released this statement:
"Let's start out by saying we're incredibly sorry for offending everybody – that was never our intention, but we completely understand where we've gone wrong. This post should never have gone out. The feedback you have given us will help us ensure that something like this will never happen again, and we appreciate that."
However, this is not the first time the company has come into hot water for sexist advertisement. In 2012, Bic issued a line of pink pens designed "to fit comfortably in a woman's hand."
This kind of advertising is blatantly sexist. This ad tells women to "think like a man?" Why not think like a woman? What is the difference the company is trying to imply?
What is particularly jarring about the advertisement is the day in which it was released, Women's Day. This makes me question the marketing tactics of the company; Who thought this was a good idea?
For more business and financial news, click here.
*This is editorial content and expresses the opinion of the author.