Roku, Inc. (ROKU) just released its third-quarter financial results, posting a non-GAAP, pro forma loss of 10 cents per share and revenues of $124.8 million. This is Roku's first earnings report as a publicly-traded company.
Currently, ROKU is a Zacks Rank #3 (Hold) and is up 27.02% to $23.93 per share in trading shortly after its earnings report was released.
Roku:
The company posted a non-GAAP, pro forma loss of 10 cents per share, which was an improvement from the 17 cent loss posted in the prior-year quarter. On a GAAP basis, the company posted a loss of $8.79 per share in the quarter, up from a loss of $2.66 per share last year. Roku cited a variety of costs associated with its IPO as a reason for this change.
The company saw revenue figures of $124.782 million, which was up about 40% from the $89.053 witnessed in the year-ago period. Roku said that $67.254 million of this revenue was from sales of its players, while $57.528 came from its streaming platform.
Active accounts increased 48% to 16.7 million at the end of the quarter. Streaming hours surged 58% to 3.8 billion hours. Average revenue per user gained 37% to $12.68 on a trailing 12-month basis.
"Our higher margin platform segment is the key driver of our growth and gross margin expansion, and our advertising business has more than doubled in size year-to-date. We continue to see strong momentum with our Roku TV program," management noted in the release.
Management also provided guidance for the fourth quarter. Roku expects total net revenue to be between $175 million and $190 million. Net income is expected to fall in the range of -$14 million to -$8 million.
Here's a graph that looks at Roku's price action since its IPO earlier this year:
Roku, Inc. Price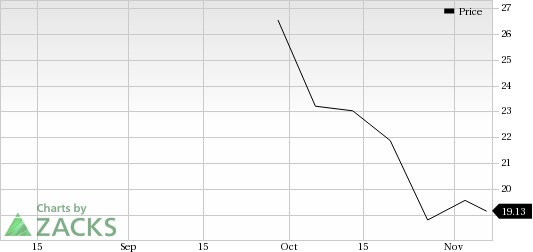 Roku, Inc. is involved in creating a streaming platform for delivering entertainment to the television. The Company's products primarily includes Roku 4, Roku 3, Roku 2, Roku 1, Roku Streaming Stick and accessories such as cables, remote controls, power adapters and headphones.
Check back later for our full analysis on Roku's earnings report!
Want more stock market analysis from this author? Make sure to follow @
https://twitter.com/Ryan_McQueeney
on Twitter!
Wall Street's Next Amazon
Zacks EVP Kevin Matras believes this familiar stock has only just begun its climb to become one of the greatest investments of all time. It's a once-in-a-generation opportunity to invest in pure genius.
Want the latest recommendations from Zacks Investment Research? Today, you can download 7 Best Stocks for the Next 30 Days.
Click to get this free report
Roku, Inc. (ROKU): Free Stock Analysis Report
To read this article on Zacks.com click here.
Zacks Investment Research