GoPro, Inc. (GPRO) just released its second-quarter fiscal 2017 financial results, posting earnings of $-0.09 per share and revenues of $296.53 million. Currently, GPRO is a Zacks Rank #3 (Hold) and is up 10.53% to $9.13 per share in trading shortly after its earnings report was released.
GoPro:
Beat earnings estimates. The company posted earnings of $-0.09 per share, beating the Wall Street Consensus Estimate of $-0.25 per share.
Beat revenue estimates. The company saw revenue figures of $296.53 million, which represents 34% year-over-year growth, defeating our consensus estimate of $270.86 million.
Global sell-thru of cameras increased 18% sequentially. Additionally, camera sell-thru above $300 was up 13% year-over-year, including 7% in EMEA and 194% in Japan. According to GfK, camera unit sales in Japan are up 164% and dollar sales are up 147% year-over-year in the second quarter.
The Quik mobile video editing app was installed 5.6 million times in the second quarter, a year-over-year increase of 84%. Second quarter monthly active users were up 112% year-over-year. China represents Quik's second largest user base globally.
HERO5 Black was the best-selling digital image camera in the U.S. in the second quarter, according to The NPD Group's Retail Tracking Service.
For third-quarter fiscal 2017, GoPro, Inc. is expecting revenues around $300 million, Non-GAAP operating expenses of between $115 million and $117 million, and Non-GAAP EPS to be around $0.06 per share.
"GoPro is building momentum. Strong demand combined with our cost management and margin initiatives contributed to GoPro's EBITDA positive performance in the second quarter. HERO6 and Fusion, our 5.2K spherical camera, are on course to launch later this year and we continue to track toward our goal of full-year, non-GAAP profitability in 2017," said Founder and CEO Nicholas Woodman.
Here's a graph that looks at GPRO's Price, Consensus and EPS Surprise:
GoPro, Inc. Price, Consensus and EPS Surprise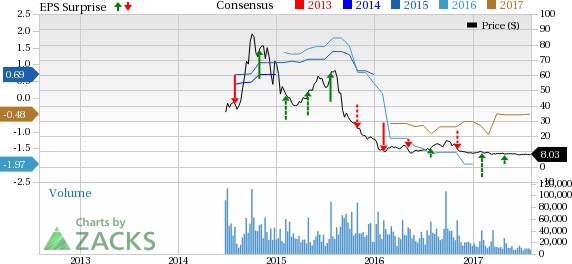 GoPro, Inc. Price, Consensus and EPS Surprise | GoPro, Inc. Quote
GoPro, Inc. engages in producing wearable HD camcorders, known as action cameras and related accessories. It also curates videos shot on its cameras and broadcasts those videos on its own channel on YouTube, Xbox Live and Virgin Atlantic flights. The company offers HERO line of cameras; premium accessories; and mounts comprising equipment-based mounts.
Check back later for our full analysis on GPRO's earnings report!
More Stock News: Tech Opportunity Worth $386 Billion in 2017
From driverless cars to artificial intelligence, we've seen an unsurpassed growth of high-tech products in recent months. Yesterday's science-fiction is becoming today's reality. Despite all the innovation, there is a single component no tech company can survive without.
Demand for this critical device will reach $387 billion this year alone, and it's likely to grow even faster in the future. Zacks has released a brand-new Special Report to help you take advantage of this exciting investment opportunity. Most importantly, it reveals 4 stocks with massive profit potential. See these stocks now>>
Want the latest recommendations from Zacks Investment Research? Today, you can download 7 Best Stocks for the Next 30 Days.
Click to get this free report
GoPro, Inc. (GPRO): Free Stock Analysis Report
To read this article on Zacks.com click here.
Zacks Investment Research