Today is Friday, that's why we will try to cover some small cap stocks from different sectors and with different potential. Each Friday you can read some information about small cap companies that can compete with industry leaders. 
The first company in our small cap companies review will be Brightcove. The company provides cloud-based services for video. Brightcove Video Cloud platform offers various features and functionalities, such as uploading and encoding, content management, video player technology, multi-platform video, live video streaming, distribution and syndication etc. The functionality of the platform is really huge. 
The stock grew up more than 20% over the last month and it seems that a lot of upside potential is there.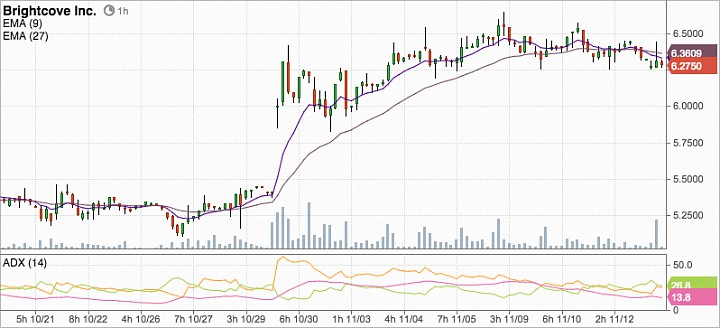 Before we can make the decision about the stock, let's check the operating and financial metrics:
Revenue is growing: $99.6M as of September 2015 vs $93.6M as of September 2014;
Number of customers is growing: the company had around 5,899 clients as of September 2015 in comparison with 5,162 as of September 2014;
ARPA is going down this year. As of September 2015 ARPA was around $15K (I took the subscription revenue), but as of September 2014 it was almost $19K. That's the surprise for me, because the company's ARPA over the last several years grew up significantly (+58% since 2012);
The very positive sign for me is the following: cost of revenue and marketing expenses are going down as % of revenue. Moreover, Brightcove did an amazing job this year - the company spent on marketing around $34,714K during nine months of 2015 - and this is almost the same as in 2014 ($34,406K);
As soon as the company is efficiently working with its marketing budgets, Customer Acquisition cost dropped down from around $27.4K to $25.8K.
The most important result is the marginality increase. Yes, the company reduced its ARPA, but it reduced the expenses as well. Despite the expenses decrease the company keeps growing. Perhaps, it will never become as big as YouTube, however, it provides a good return to its shareholders. I suppose that 2014 will be the first year when the company's EBITDA will be positive. 
If we talk about the business, I think that BrightCove has even much more advantages than YouTube. As soon as all the content becomes personalized and specific, as soon as people creates lots of content in their blogs - BrightCove becomes an ideal instrument to monetize your video content. YouTube is mostly the video content aggregator, BrightCove is the instrument to monetize the videos. The tools and instruments are much more advanced. BrightCove's business is very interesting and promising. Moreover, I assume that some time, YouTube's market share will go down, because of such tools as BrightCove. 
I strongly believe in the native video advertising. I think that the future market leader will provide an opportunity to its users to add the native video ads automatically. 
What do you think about the whole video advertising market?