EUR/GBP could be getting ready for another bullish swing. After retreating from 0.8625, EUR/GBP came down to 0.8250 last week.
EUR/GBP 1H Chart 7/19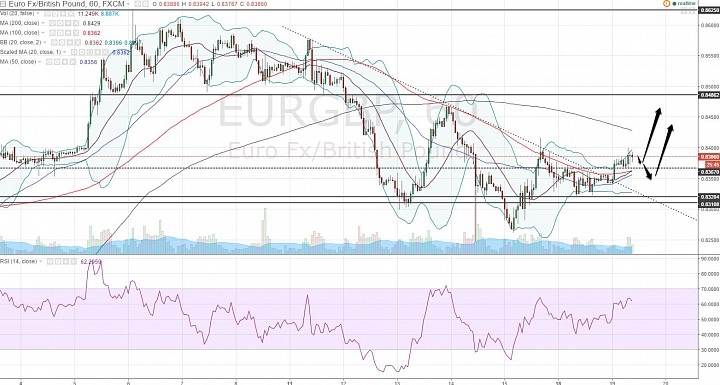 (click to enlarge)
Trend is shifting: 
The 1H chart shows a EUR/GBP that is shifting in the short-term.
After finding support at 0.8250, the pair has made a higher low. This breaks the patter of lower highs and lower lows. 
EUR/GBP has yet to make a higher high however. 
But, the pair did break above a falling trendline as well as the cluster of 50- and 100-hour simple moving averages (SMAs).
It has yet to cross the 200-hour SMA, or push the RSI back above 70 to show bullish momentum. 
So, we can say that there are some evidence that the short-term trend could be turning bullish again. But, it is premature to say that EUR/GBP is already in bullish continuation. To me, this is a good time to take a risk for the upside. 
Intra-session trade idea:
0.8380 could be an entry point during the 7/19 session, with a stop below 0.8365. (risk: 20-25 pips)
The targets could be 0.8415 and 0.8485. (reward: 35 pips and 105 pips. avg: 70 pips). 
If this trade fails, I am still bullish on EUR/GBP above 0.8340, the 8/19 low. 
Another entry could be set up at 0.8350 with a stop at 0.8335. (15 pips)

If the previous trade fails, there is a strong possibility that another position will be opened with an even better reward to risk profile.