We have recently discussed the shift of XAU/USD's price action in 2017 from a bullish trend to a sideways one and now to possibly a bearish one.

XAU/USD Daily Chart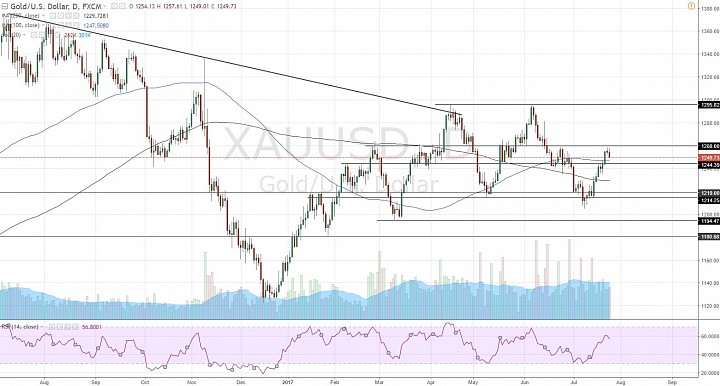 (click to enlarge)

Shifting Trends:
- The daily chart shows how price flattened after reaching 1295.
- Then in July, price fell below a range support. This is a clue that the trend could have shifted to bearish mode.
- However, the bearish scenario has not materialized. Instead there was a rebound.
Key Resistance:
- As price rebounds, the 1260 level is a key resistance.
- It represents the central pivot of the prevailing range. If price holds under it, the bearish bias still holds.
- Also, the RSI should hold under 60 if the market is turning bearish.
Downside:
- So far, we do see some selling from the 1260 spot, so XAU/USD still has a bearish bias with downside towards at least 1195-1200.
- More aggressive bearish targets would be 1180, then the 2016 low around 1122.50.