Summary
Forward-thinking is a virtue.
Westmoreland Coal Company has an extremely weak balance sheet primarily due to its excessive leverage in a dying sector.
Several factors will prevent the company from generating sufficient free CF to serve its debt effective 2017.
As such, Westmoreland Coal Company has significant downside potential at the current price of $7.40/share.
It is also likely that the company will seek bankruptcy protection.
Peabody Energy (BTU), Alpha Natural Resources (OTCPK:ANRZQ), Walter Energy (OTCPK:WLTGQ), Patriot Coal (OTC:PATAQ), Arch Coal (ACI) and James River Coal (OTCPK:JRCCQ) have already bitten the dust. And Foresight Energy LP (NYSE:FELP), another coal firm, will most likely join the bankruptcy club before year end.
But the subscribers to my Premium Research have achieved amazing returns since January 2016 when they shorted Peabody Energy by loading Put Options, based on my repeated bearish recommendations.
However, if you missed both Peabody Energy and my previous bearish article on Dollar Tree (NASDAQ:DLTR), you have one more chance to jump aboard another excellent short candidate in a timely manner. Westmoreland Coal Company (NASDAQ:WLB) has significant downside potential at the current price of $7.40/share and will likely file for bankruptcy by the end of 2017. The company is another land mine, and only a miracle can save it.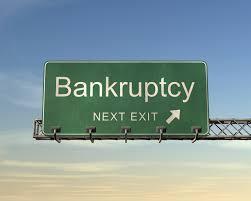 Analysts And Fund Managers Never Cease To Amaze Me
As mentioned above, many coal producers have filed for bankruptcy over the last years, including privately held America West Resources Inc., Trinity Coal Corp., Americas Energy Co., IBCS Mining Inc. and Clearwater Natural Resources LLC.
On that front, it's interesting to see the most recent case and Peabody Energy's chart below:
Based on the chart above, it's clear that some fund managers expected Peabody Energy to survive and pushed it to $6.55/share in March 2016, despite the fact that the company's leverage was higher than 10 times (as of December 2015).
In contrast, as I wrote back then in one of my Premium Posts about Peabody Energy for my subscribers:
"I believe this is the typical "dead cat bounce", and both stocks rose as a result of short-covering coupled with a technical reaction, given that they are coming from much higher levels. There are not any factors (i.e. company-specific factors or improving macro coal environment) that can justify this bounce from a fundamental perspective".
And this doesn't happen only with Peabody Energy. It happens over and over again with many firms, including Abengoa (NASDAQ:ABGB), Goodrich Petroleum (GDP), Seventy Seven Energy (NYSEMKT:SSE), Magnum Hunter Resources (OTCPK:MHRCQ), Energy XXI (NASDAQ:EXXI) and SunEdison (NYSE:SUNE), six cash burning machines loaded with debt that recently filed for bankruptcy or are on the verge of it.
Specifically, Carl Icahn owned 8% in Seventy Seven Energy in December 2015 when the stock was at $1.10/share. But he couldn't see the storm coming and Seventy Seven Energy currently stands at $0.22/share. Also, as of December 2015, Omega Advisors, Oppenheimer Funds, Valinor Management LLC, Vanguard Group and Greenlight Capital were some of SunEdison's major holders, to name a few. And I still recall when heavily indebted SunEdison was at $20 in October 2014, burning a ton of cash, and David Einhorn of Greenlight Capital pitched the stock as a long position at an elite investment conference. He called SunEdison "a well‐run, financially savvy company, benefiting from an open-ended growth opportunity trading at a bargain price".
And the thing is, despite their past mistakes, the fund managers and their analysts prove to be very bad students without ever learning their "from-hero-to-zero" lesson. Specifically, out of 5 analysts covering Westmoreland Coal, 4 rate it "Strong Buy", 1 "Buy", 0 "Sell" and 0 "Hold". This means 100% are positive. None of them currently sees one single reason for a "Sell" or even a "Hold" rating, which is really shocking, while proving once again that their competence is questionable, to say the least.
Actually, these short-sighted analysts from FBR Capital Markets, Zacks, Forward View Consulting, BB&T Capital Markets and BMO Capital Markets have price targets ranging from $9 to $20.
And as a result, there are many hedge fund managers who bought Westmoreland Coal in Q4 2015, like Wynnefield Capital Inc., Peak6 Investments, Hightower Advisors, Gendell Jeffrey L, Landscape Capital Management L.l.c., Stonehill Capital Management, BlackRock Fund Advisors, Dynamic Technology Lab Private Ltd. and Russell Frank Co., to name a few.
Meanwhile, shareholders like LF Partners hope that Westmoreland Coal should sell itself for over $31/share. Hope never dies, but hope is not a strategy. And when it comes to Westmoreland Coal, hope is not based on fundamentals either.
This is why many fund managers and analysts never cease to amaze me. They often prove to be unable to see the storm coming, and make me wonder why thousands of investors trust them, give them their hard-earned money and/or take their financial advice.
The Assets And The Contracts
Westmoreland Coal Company operates in six segments: Coal - U.S., Coal - Canada, Coal - WMLP, Power, Heritage and Corporate. The Coal - U.S. segment includes the aggregated operations of coal mines located in Wyoming, Montana, North Dakota and Texas. Its Coal - Canada segment includes the aggregated operations of coal mines located in Alberta and Saskatchewan. The Coal - WMLP segment includes the operations of the company's ownership in the general partner and majority interest (93.9%) in Westmoreland Resource Partners, LP (NYSE:WMLP). The Power segment includes its ROVA operations located in North Carolina. The Heritage segment costs primarily include benefits the company provides to former mining operation employees as well as other administrative costs associated with providing those benefits and cost containment efforts. Corporate segment primarily consists of corporate administrative expenses.
The company's U.S. mines include the Absaloka, Beulah, Jewett, Rosebud and Savage mines. The coal produced at the Absaloka mine requires road transport to its regional customers and rail transport to its principal customer in Minnesota. The customers of the Beulah, Jewett and Rosebud mines are located adjacent to the mines, and therefore, the coal for these customers is delivered by conveyor belt, which decreases transportation costs, while giving Westmoreland Coal a cost advantage over its regional peers. The customers of the Savage mine are located a few miles from the mine, and the company transports coal by truck.
As linked above, Westmoreland's Canadian mines are the Prairie mines, which include Paintearth, Genesee, Sheerness and Estevan, where the company uses trucks to transport its coal. The Poplar Mine transports the coal via rail and truck. The Coal Valley Mine sells thermal coal to Asian customers (Japan, Korea) via rail and reserves port terminal transport.
Westmoreland Resource Partners is the company's "cow". To-date, this "cow" has always been there to "feed" Westmoreland Coal's cash burning machine and cover its cash needs. In other words, Westmoreland Coal has been milking this "cow" over the last 1.5 years by monetizing its assets through the drop-down strategy. This monetization translates into cash and equity in WMLP. During 2015, the company contributed 100% of the outstanding equity interests in Westmoreland Kemmerer, LLC (the "Kemmerer Mine") to WMLP for $230 million in aggregate consideration and increased its stake to 93.9%, as linked above.
Management has been touting that the company has a unique operating model in the coal industry that gives it a key advantage relative to the peer group. Specifically, some of the company's mines are "mine mouth", which translates into a transportation advantage, thanks to the use of conveyor belts. The remaining mines have transportation access, which somewhat eliminates the threat of displacement by other coal basins.
Furthermore, the company has been touting that its coal is competitive with natural gas up to approximately $1.5/MMBtu. Finally, it says that it usually enters into long-term, cost-protected supply contracts with its customers, and therefore, it's not heavily exposed to the spot market like its competitors.
Nevertheless, Westmoreland Coal's contracts and cash flows are not as "insulated" as it wants to make us believe. Specifically:
1) WMLP's contacts will gradually expire by 2020, as illustrated below:
In other words, WMLP will be increasingly exposed to the spot market by 2020, while the extensions and the terms of the new contracts, if any, are currently unknown.
2) There are already some WLB customers (i.e., the Beulah Mine) which will not renew their contracts in 2016, as illustrated below:
3) "Cost-plus basis" refers to contracts in which customers agree to pay a certain percentage over and above costs. "Cost-indexed contracts" refer to contracts tied to certain benchmarks. That said, 90% of WLB's coal sales are long-term cost-plus/cost-indexed contracts, but the nominal commitment can change because of reopener and adjustment provisions for cost and market variances contained in these long-term contracts. Simply put, the highly touted contract structure does not guarantee stable sales volumes. Actually, the volume visibility and predictability are low, as quoted below:
"We do not have contracts guaranteeing the purchase of fixed quantities of coal, so...
More