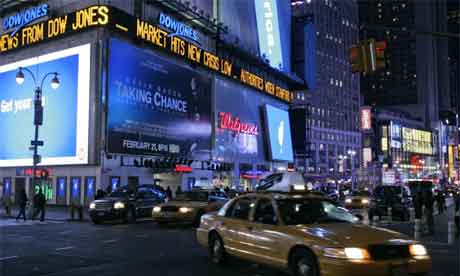 Stock continue on the downhill trip with the Dow Jones industrial average and the S&P 500 lower on Monday. Strong earnings from Caterpillar helped keep the market from sliding down further. The company beat the earnings and sales estimates and approved a new 10 billion share buyback program.
The Nasdaq was down more than 1%. Shares of Twitter dropped significantly, follow by its fellow media friend, Facebook and LinkedIn.
Last week was a tough week for U.S. stocks. The Dow end the week with 3.5% down. According to the VIX index, the market shows more fear by 25% more. Many investors suspect that stocks is heading for a correction, which is typically a drop of 10% or more, after last year's rally sent the stock price to the point where they are considered slightly expensive. And stock definitely can dip further if corporate earning fail to meet the expectation. So far, corporate earnings have beaten analysts' modest expectations. Of the 123 S&P 500 companies that have reported results through Friday, 68% have had earnings above expectations, according to FactSet Research.