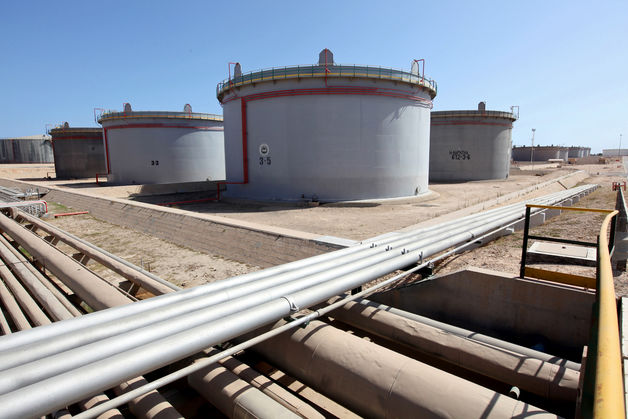 Photographer: Shawn Baldwin/Bloomberg
Pipes and fuel storage tanks
Some of the world's biggest banks say the collapse in oil is just about over.
Bank of America Corp. and BNP Paribas SA predict prices will hold above $80 a barrel. Commerzbank AG also sees that level as a possible low for Brent crude. They're in part counting on OPEC cutting output -- some say as soon as next month -- to compensate for recent declines in demand.
North Sea Brent, the benchmark for more than half the world's oil, has slid by more than $30 a barrel from its June high to below $83 a barrel today amid a supply glut and slower global growth. Ministers from the 12-member Organization of Petroleum Exporting Countries will meet in Vienna on Nov. 27 to discuss production and price levels.
"We are almost at the floor," Harry Tchilinguirian, head of commodity markets strategy at BNP Paribas in London, said by phone yesterday. He estimates that Brent will be supported at $80 to $85 a barrel and could rebound to $95 by year-end. "It's not in OPEC's interest to see prices too low for too long a period."
That banks' forecasts hinge so much on OPEC's decision next month underscores the pivotal role the group, and especially Saudi Arabia, still plays even as production surges everywhere from the U.S. toRussia to Canada. Analysts surveyed Oct. 9 by Bloomberg were split on whether the group will cut its oil-production target for the first time since 2008.
The oil-price floor of $80 a barrel may shift if OPEC rejects cuts next month, said Eugen Weinberg, head of commodities research for Commerzbank AG in Frankfurt.