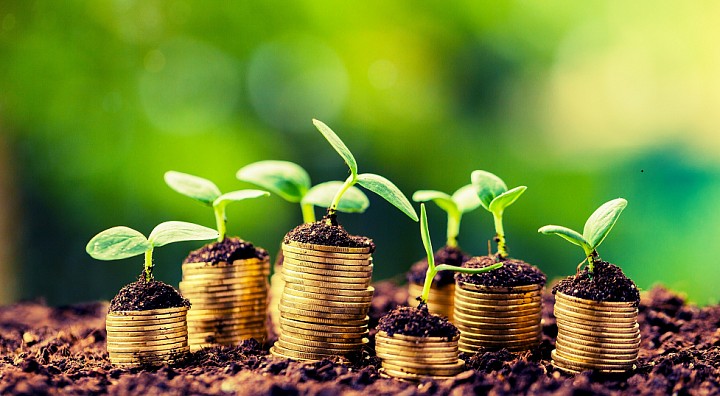 What are dividend investors looking for? The holy grail of dividend investing means stocks in strong companies which pay out a high dividend yield. The yield can provide a steady source of income every quarter which, investors hope, will increase over time. This money can even be reinvested back into the company to ramp up your shareholding. Dividend stocks from financially healthy companies can also be a smart way to hedge your risk against more volatile stocks.
We wanted to take advantage of the latest addition to the Smart Portfolio's Crowd Insights page, and find dividend stocks from only the best performing portfolios that generate the highest return for investors.

This gave us a list of three of the most popular dividend stocks for top portfolios, which on average have a dividend yield of 0.66% across their entire stock holding.

Now let's take a closer look at the outlook for these three top dividend stocks:
1. General Electric (NYSE:GE)
This is a big dividend stock and the number 1 choice for top-performing investors. For decades, GE has boasted an attractive dividend yield of 3.60% which translates into $0.24. However, the multinational conglomerate also has a very cautious "Hold" outlook from the Street according to TipRanks' stock analysis page.
With a falling share price ($33 to $26 year-to-date) and shrinking growth, will GE struggle to maintain its current rate of dividend payment growth? On a short-term basis, this could well be the case, but longer-term there is still reason to be bullish.
Indeed, GE has just received three buy ratings in a row from RBC Capital, Credit Suisse and Stifel Nicolaus. Top RBC Capital analyst Deane Dray has a price target of $135 on the stock which translates into a considerable 33% upside from the current share price. According to Dray, new GE CEO John Flannery's experience in the GE development team will mean he is "readily adept at maximizing value and structuring potential exits". Flannery is taking over from Jeff Immelt, who quit after a 16-year tenure at General Electric.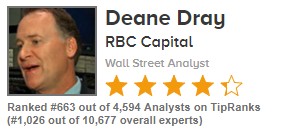 2. Procter & Gamble (NYSE:PG)
This multinational consumer goods manufacturer- owner of big-name brands like Gillette and Olay- is the second most popular dividend stock for best-performing Smart Portfolio investors. In fact, PG has just announced a quarterly dividend of $0.6896 per share, or $2.7584 annualized, to be payable on August 15. The annual yield on the dividend comes in at 3.1% which translates into a strong $0.69.
As far the Street is concerned, the stock has received a string of hold ratings recently and only one buy rating from four-star Jefferies analyst Kevin Grundy. Grundy believes that the stock can return to the industry growth rate and is predicting P&G organic sales growth to reach 3.1% by fiscal 2018. In fiscal 2016, PG grew by just 0.9% vs 4% for the sector.
On the positive side, CEO David Taylor has now finished a $10 billion cost-cutting exercise, and intends to slash a further $10 billion by 2021. Part of this could be down to pressure from activist billionaire Nelson Peltz and his Trian Fund Management LP, which has a huge $3.3 billion stake in Procter & Gamble.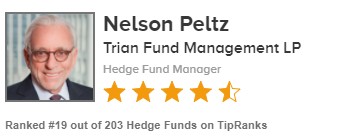 "Activist involvement provides unique optionality among mega-caps and should raise the execution bar for management," Grundy commented. His $98 price target on the stock stands at a bullish 13% upside from the current share price.
3. Gilead Sciences (NASDAQ:GILD)
The third dividend stock is big biotech Gilead Sciences which boasts a 3% dividend yield ($0.52). Unlike the first two stocks, Gilead- which is well known for its hepatitis and HIV treatments- actually has a Strong Buy consensus rating from the Street. Meanwhile the average analyst price target suggests the stock has potential upside of 20.5% from the current $69.35 share price.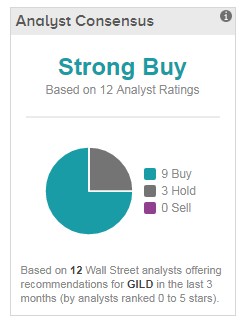 The stock has rallied after comments from President Trump suggesting that he won't be as strict on drug pricing as previously expected. This is good news for Gilead which is well known for its pricey pills- hepatitis C drug Sovaldi was launched at $1,000 per pill.
Indeed, Cowen & Co analyst Phil Nadeau has just revealed that Gilead has raised the US price of several of its drugs by 6.9% according to third party sources. Nadeau points out that Gilead has a practice of raising most of its drug prices once a year. The move included another price hike for Gilead's older HIV medicines, which Nadeau says should result in increased momentum for Gilead's newer HIV drugs Odefsey and Genvoya.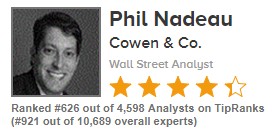 Conclusion: not all high-performing dividend stocks have the best review from the Street. How do your dividend stocks compare? See how your dividend stocks stack up here.
TipRanks tracks over 5,000 stocks and ranks over 4,500 Wall Street analysts.
The post 3 Most Popular Dividend Stocks for Top Investors appeared first on TipRanks Blog.