Aerospace behemoth The Boeing Co. BA secured a $349.2 million contract for Ground-Based Strategic Deterrent (GBSD). Work related to the deal is scheduled to be over by Aug 20, 2020.
Details of the Deal
The contract was awarded by the Air Force Nuclear Weapons Center, Hill Air Force Base, UT. Per the terms of the agreement, Boeing will deliver an affordable total system replacement of Minuteman III missile to meet intercontinental ballistic missiles operational requirements. The replacement will be done by conducting technology maturation and reducing technical risk of this weapon system.
Work will be carried out in Huntsville, Al, and various other locations. The company will utilize fiscal 2017 research, development, test and evaluation funds to finish the work.
A Short Note on GBSD & Minuteman
Ground Based Strategic Deterrent (GBSD) is the next generation intercontinental ballistic missile (ICBM) for the U.S. Air Force. Boeing's Minuteman is one such ICBM, conceived in the late 1950s. With nine other industry contractors — including North American Aviation's Autonetics Division, based in Anaheim, CA— Boeing has built, tested and deployed the Minuteman missiles.
Minuteman missiles offer a quick-reacting, inertially guided, highly survivable component to America's strategic deterrent program. Through state-of-the-art improvements, the Minuteman system has been developed to meet new challenges and assume new missions. The latest version – Minuteman III – constitute part of the United States' Strategic Command that includes the Navy's Ohio class fleet of ballistic missile submarines and Air Force's B-2 and B-52 bombers.
What's Favoring Boeing?
There has been a rapid rise in terrorist activities across the globe of late. With radical institutions having an easy access to weapons and North Korea consistently sending missile threats to the continental regions of the United States, America is left with little choice but to consistently develop its own tactical weaponries base.
Coming to Boeing, apart from enjoying a strong forte in the combat-proven aircraft space thanks to its broadly diversified programs, strong order bookings and backlog enabled the company to acquire substantial shares of the defense missile industry. Consequently, the company's Defense, Space & Security segment witnessed healthy revenues and margins growth during the second quarter of 2017, along with an order booking worth $1 billion from the US Missile Defense Agency.
Notably, the global missiles and missile defense system market is projected to grow at a CAGR of 2.18% during 2017-2024, to reach a value of $41 billion. Given this and the fact that majority of the top 10 weapon manufacturers hail from the U.S., Boeing is expected to win more such awards. This in turn will enable the aircraft major to gain significant traction in the aerospace and defense space, in the coming days.
Price Movement
Shares of Boeing have rallied 78.7% over the last 12 months, outperforming the industry's gain of 34.6%. This might be because of the company's strong balance sheet and cash flows which have been providing financial flexibility in matters of incremental dividend, ongoing share repurchases and earnings accretive acquisitions. The company also poses strong competition to its peers like General Dynamics Corp. GD, Northrop Grumman Corp. NOC and Lockheed Martin Corp. LMT.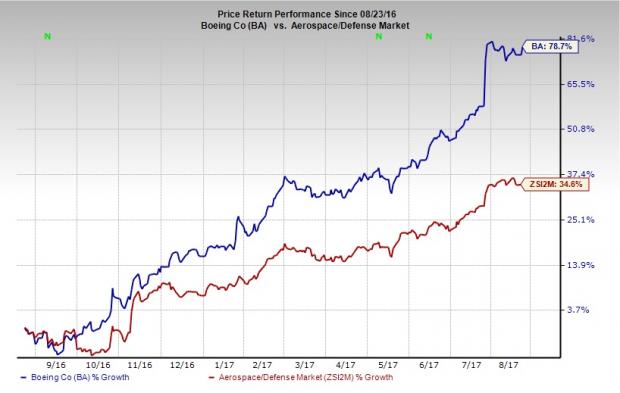 Zacks Rank
Boeing currently carries a Zacks Rank #2 (Buy). You can see the complete list of today's Zacks #1 Rank (Strong Buy) stocks here.
4 Surprising Tech Stocks to Keep an Eye on

Tech stocks have been a major force behind the market's record highs, but picking the best ones to buy can be tough. There's a simple way to invest in the success of the entire sector. Zacks has just released a Special Report revealing one thing tech companies literally cannot function without. More importantly, it reveals 4 top stocks set to skyrocket on increasing demand for these devices. I encourage you to get the report now – before the next wave of innovations really take off.

See Stocks Now>>
Want the latest recommendations from Zacks Investment Research? Today, you can download 7 Best Stocks for the Next 30 Days.
Click to get this free report
Northrop Grumman Corporation (NOC): Free Stock Analysis Report
Boeing Company (The) (BA): Free Stock Analysis Report
General Dynamics Corporation (GD): Free Stock Analysis Report
Lockheed Martin Corporation (LMT): Free Stock Analysis Report
To read this article on Zacks.com click here.
Zacks Investment Research