Today we look back, in order to plan ahead.
So far this year, the S&P 500 Index is trending along a well-documented seasonal pattern observed over several decades. An uptrend lifts the index by about 8 percent thru July, then gives way to a gentle decline before moving higher into year end.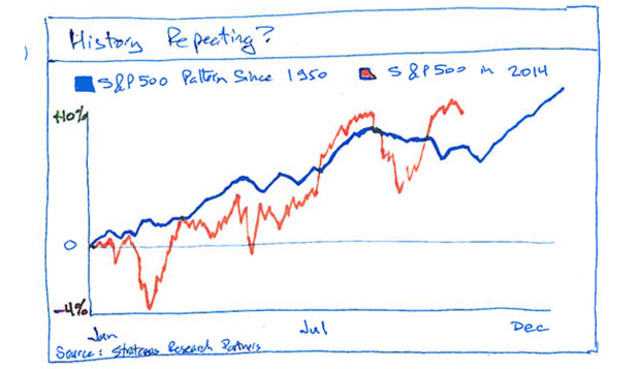 Technical strategist Chris Verrone of Strategas Research Partners LLC included the chart in his morning note to clients, and offered this interpretation:
"It wouldn't surprise us if the sideways tape that has characterized much of the last few weeks persists until the seasonal backdrop starts to improve (October) and some of the bullish sentiment is worked off."
In addition to Mr. Verrone's long-term seasonal observation, stocks may be due for a pullback based upon more recent ebbs and flows as well. The S&P 500 Index has declined an average of 4.6 percent on four occasions in the past 12 months, touching its upward-sloping trend line each time.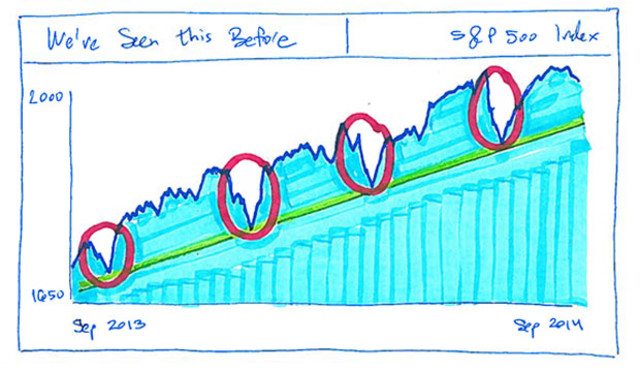 Since posting a new intraday high of 2,011 on Sept. 4, the S&P 500 Index has declined about 1.3 percent. Given the average pullback of 4.6 percent this past year, we might expect another 3.3 percent decline (4.6 minus 1.3).
As a result, we argue for maintaining the protective put position we first described on September 2. The at-the-money option expiring Sept. 30 costs $2.40, or 0.95 percent. We think think this represents an inexpensive way to both protect long stock positions and profit from a near-term decline.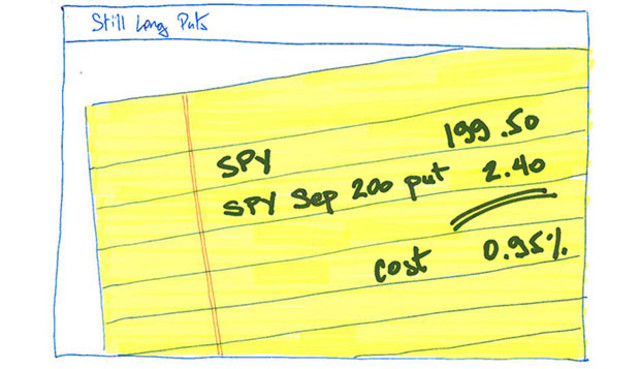 Source: 
http://www.bloomberg.com/