As Bitcoin surged to new highs against the USD in October and November so far, Ethereum has been stuck around 300 USD. The all time high is around 450 USD. This means, Ethereum priced in Bitcoin $ETHBTC has been sliding. However this pair seems to have established a bottom this week.

ETH/BTC 1H Chart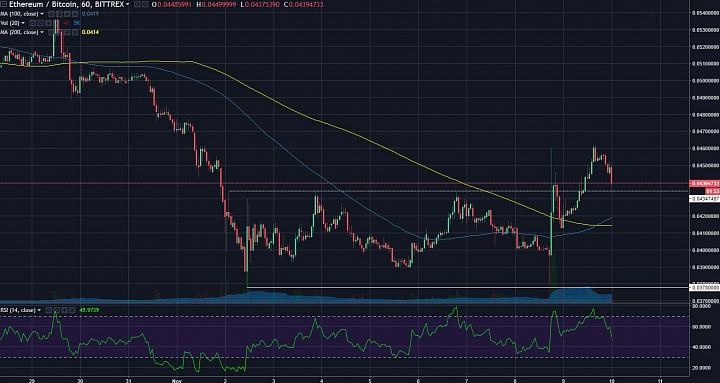 (click to enlarge)
Consolidation Range/Price Bottom:
- ETH fell to about 0.03780 BTCs at the start of November.
- It has since been ranging between that low and 0.04347 BTCs.
- This week, price broke above the resistance thus possibly completing a price bottom.
Bullish Reversal:
- At least in the 1H chart, price action appears to be in a bullish reversal.
- Price has broken above the 200- and 100-hour simple moving averages (SMAs).
- Now on the pullback, if price can hold above the 0.04150-0.0420 BTCs area, we would have more confirmation of the bullish reversal scenario.
- Also, if the 1H RSI holds above 40, we can say that the short-term bullish momentum survived.
- This would open up a bullish outlook in the short to medium term with 0.05000 BTCs in sight.