One day after the ugliest 10Y auction in a long time, the US sold $15 billion in 30Y paper in what was yet another "deplorable" bond auction.
The refunding stopped with a sizable tail, with the high yield printing at 3.05%, 1.3bps wide of the 3.037% When Issued, with a light bid/cover, and small buyside takedown. Indirect bidders took down 59.1% of the auction today, and Direct bidders took down 5.3% of the auction.
The high yield of 3.05% was above last month's 2.938% in April but below the 3.17% in March. It also tailed the When issued at 1pm.
The details: the bid to cover of 2.191 was the lowest since November, and below both April's 2.226 the 2.31 6 month average. Total bids of $37.8b for $20.0b in bonds sold vs $26.8b in bids for $12.1b in bonds sold at the previous
Indirect bidders took down 59.1%, which also was the lowest since November, down from 64.5% in April and below the 6 month average of 62.8%. Directs took down 5.3%, also a drop from April and below the 8.4% 6 month average.  This left Dealers with 35.6% of the final allocation, the highest going back all the way to September.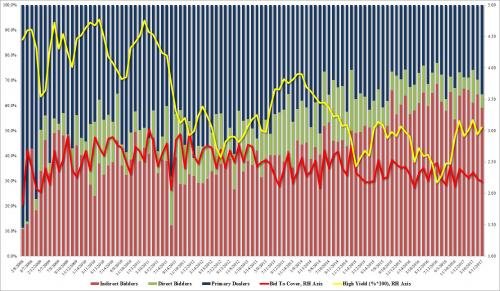 Unlike yesterday, however, when the 10Y print caused a sharp selloff across the curve, today there was some confusion in the kneejerk reaponse as shown below. That said, the curve did resume a modest steepening, although it may all be reversed tomorrow if the April retail sales disappoint again, as today's earnings report from Macy's suggest will likely be the case.