Germany-based enterprise application software, SAP SE SAP, has recently announced a host of new Internet of Things (IoT) solutions. These were launched at its global summit, Leonardo Live, being held from July 11 to 12 in Frankfurt. These rollouts are in line with the company's efforts to expand its IoT business over the past one year. It reflects the company's strategy to combine IoT sensor data with analytics tools.
The new offerings include Leonardo IoT Bridge, Global Track and Trace, Leonardo IoT Edge, Digital Manufacturing Insights and Asset Manager. The company has also rolled out three new Leonardo Innovation Services. Being a configurable role-based digital command center, Leonardo IoT Bridge is likely to improve visibility and ability of managers to act on a real time basis.
Global Track and Trace is a cloud-based offering designed to improve end-to-end tracking, monitoring and reporting of objects across supply chains. While Leonardo IoT Edge is a software designed to improve deterministic performance of business processes, Digital Manufacturing Insights is a cloud-based manufacturing performance management solution, touted to improve visibility in manufacturing.
The three new innovation services will help businesses to access new technologies and shorten "time to value" of customers. The new services include Express, Open Innovation and Enterprise Editions of Leonardo Innovation Services. The new technologies – which include technologies IoT, machine learning, analytics, Big Data and design thinking – will aid customers in managing their digital transformation.
SAP's intention to fortify its IoT foothold became quite clear when it announced an investment of a whopping $2.2 billion for the expansion of its IoT portfolio. Carrying efforts forward, last month, the company expanded its SAP Leonardo, which can now integrate machine learning, IoT, Big Data, analytics and blockchain on SAP Cloud Platform.
The company's shares have had a decent run year to date, gaining 20.3% and surpassing the Zacks categorized Computer-Software industry's average gain of 18.8%. Though SAP did not begin 2017 on a high note due to the bottom-line mark missing the Zacks Consensus Estimate, investors seem to have favorable expectations.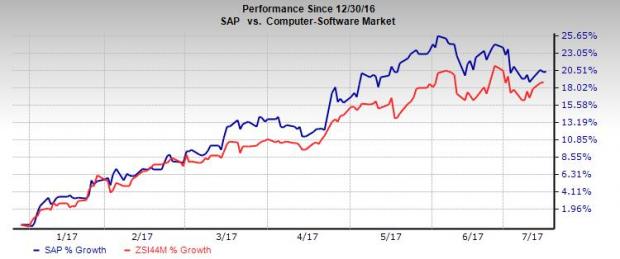 Of late, growth of the company's S/4HANA and other Cloud initiatives has been spectacular. This , in turn, has been boosting financials. Also, SAP's recent focus on machine learning to fortify its IoT stronghold is likely to unlock fresh growth avenues. It has revealed plans to launch a new product line – SAP IoT – that will integrate huge amounts of data from things connected to the Internet with machine learning and SAP's real-time database, S/4 HANA.
As a matter of fact, in light of sustained rapid growth in the cloud, robust software momentum and operating profit expansion, the Zacks Rank #3 (Hold) company raised its 2020 ambition as well. SAP now aims to achieve non-IFRS cloud subscriptions and support revenues in the range of €8.0–€8.5 billion (previously €7.5–€8.0 billion) in 2020.
Stocks to Consider
Some top-ranked stocks in the industry are listed below:
Applied Optoelectronics, Inc. AAOI delivered an average positive earnings surprise of 118.3% for the trailing four quarters, beating estimates all through. It sports a Zacks Rank #1 (Strong Buy). You can see the complete list of today's Zacks #1 Rank stocks here.
Adobe Systems Inc. ADBE holds a Zacks Rank #2 (Buy) and generated an average earnings surprise of 8.1% over the trailing four quarters, with beats each time.
Broadcom Ltd. AVGO has an average earnings surprise of 6.7%, beating estimates all through, over the trailing four quarters. It sports a Zacks Rank #1.
More Stock News: 8 Companies Verge on Apple-Like Run
Did you miss Apple's 9X stock explosion after they launched their iPhone in 2007? Now 2017 looks to be a pivotal year to get in on another emerging technology expected to rock the market. Demand could soar from almost nothing to $42 billion by 2025. Reports suggest it could save 10 million lives per decade which could in turn save $200 billion in U.S. healthcare costs.
A bonus Zacks Special Report names this breakthrough and the 8 best stocks to exploit it. Like Apple in 2007, these companies are already strong and coiling for potential mega-gains. Click to see them right now >>
Want the latest recommendations from Zacks Investment Research? Today, you can download 7 Best Stocks for the Next 30 Days.
Click to get this free report
Adobe Systems Incorporated (ADBE): Free Stock Analysis Report
SAP SE (SAP): Free Stock Analysis Report
Broadcom Limited (AVGO): Free Stock Analysis Report
Applied Optoelectronics, Inc. (AAOI): Free Stock Analysis Report
To read this article on Zacks.com click here.
Zacks Investment Research