Just one thing... Spock's Dead, Stocks Red (and AIG's Benmosche died too)
*  *  *
While February was the S&P's best month since October 2011 (amid collapsing macro data and earnings), the day and week was on the ugly side... so we thought this was more appropriate than "everything is awesome" for a change...
*  *  *
Despite the best efforts to shrug off the dismal data and ramp the open, it appears The Fed's Stan Fischer and ECB's Constancio seemed to take the liquidty glow off the market...
*FISCHER: FED BALANCE SHEET TO EVENTUALLY SHRINK TO $1-$2 TLN (wait what!?)
*FISCHER SEES 'NO GOOD REASON' TO TELEGRAPH EVERY POLICY ACTION (so a June surprise is possible?)
*FISCHER SAYS JUNE, SEPT. GET MAIN WEIGHT OF PROBABILITY
*FISCHER SAYS ASSUMPTIONS ON RATE TIMING COULD CHANGE
*CONSTANCIO: ECB TO FIND OTHER STIMULUS IF BONDS IN SHORT SUPPLY (ECB QE might be smaller?)
Stocks closed a nasty shade of red today... Nasdaq's worst day since January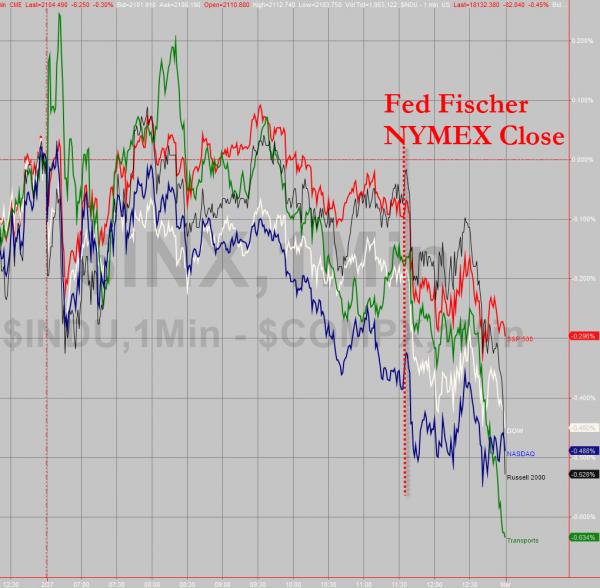 On the week, Dow, Trannies, and S&P 500 end red...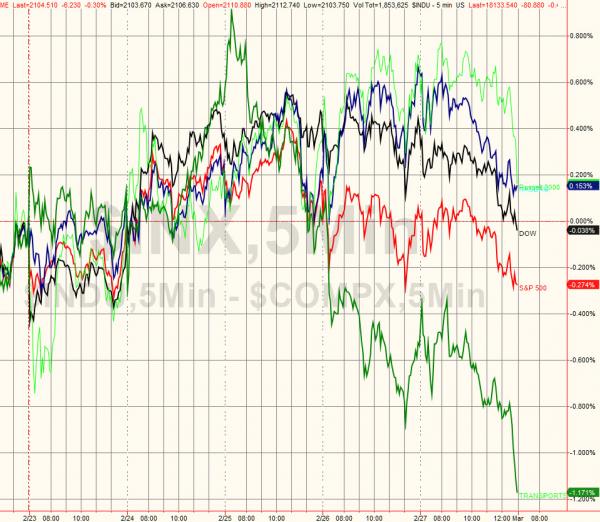 Quite amonth for the NASDAAPL..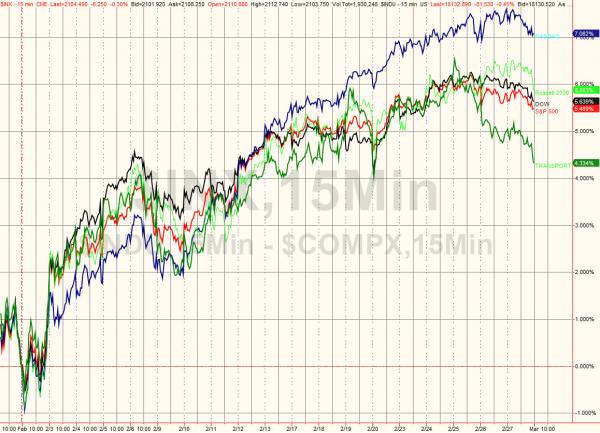 But - all that matters is that this was the S&P's best month since October 2011...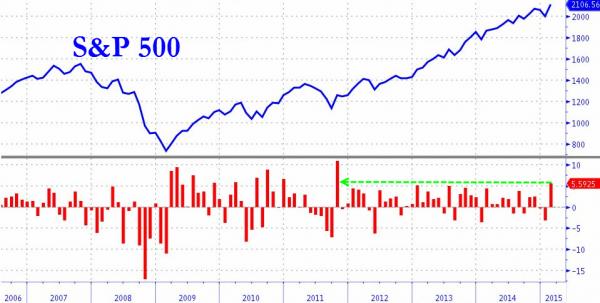 AAPL did not help matters - aside from the epic farce meltup on news of the Chicago PMI crash... AAPL's worst week since 1/16...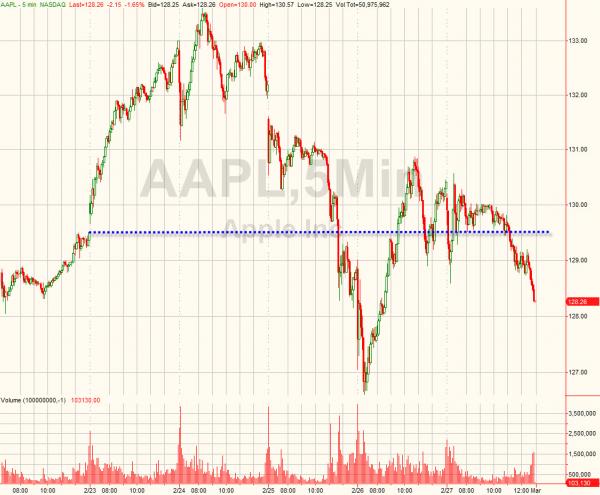 Treasury yields dropped 9-12bps on the week (2Y -1bps only)...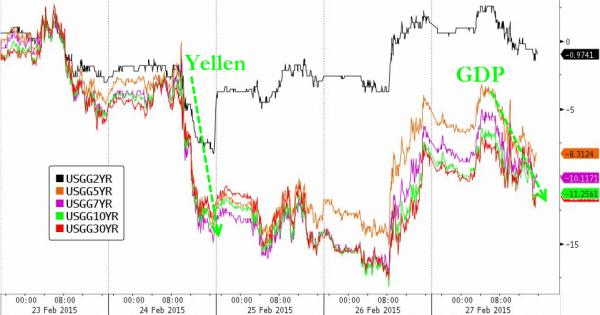 The US Dollar surged this week to the highest since September 2003 - seemingly after wage inflation showed up in the CPI data... led by a plunge in EUR and Swissy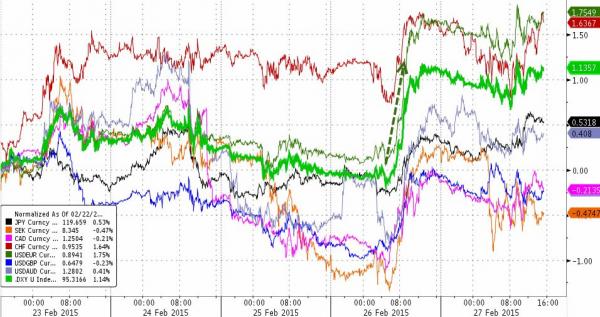 EURUSD ended the week below 1.1200 ahead of next week's QE start...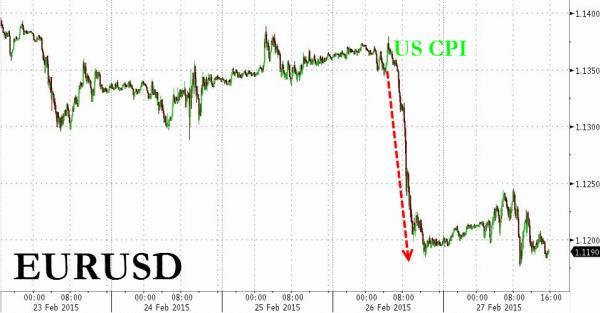 The 8th monthly rise in a row for USD Index...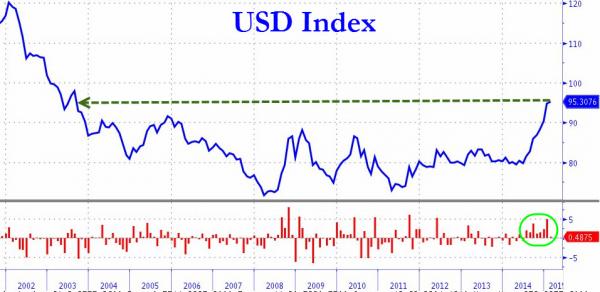 Commodities were generally flat to very slightly higher today... with only oil down on the week...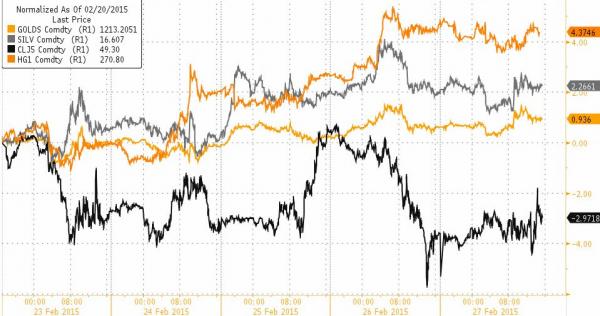 But crude oil ramped into the close - in a perfect deja vu of last week...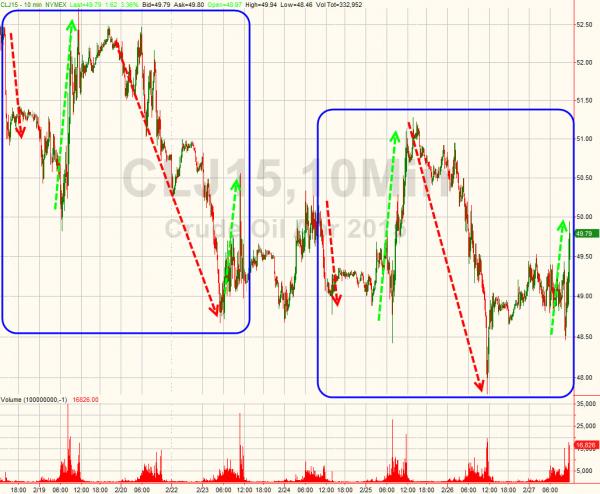 Crude oil broke its 7-month losing streak - the same length as the 2008/9 drop...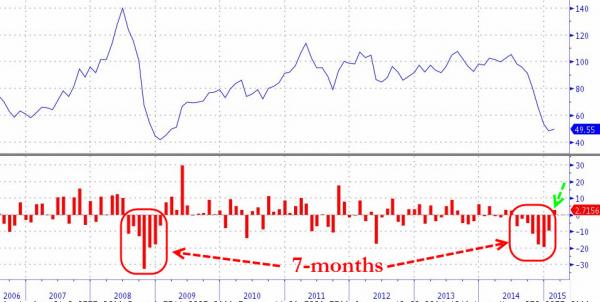 *  *  *
Stocks were February's leader with Bonds and Precious Metals worst...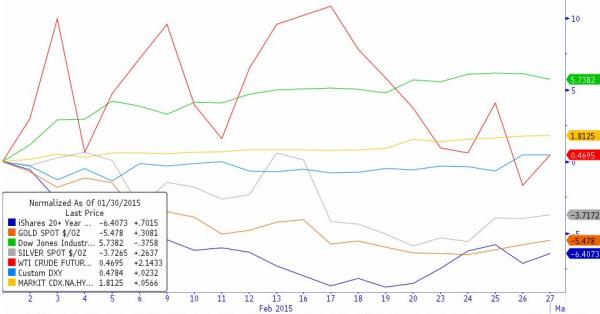 Year-to-Date, Silver remains the leader with gold and bonds just outperforming stocks...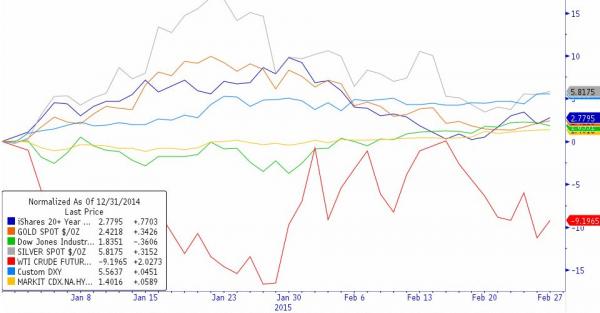 Year-to-Date, US stocks don't make the Top 10 with Russia and Saudi Arabia leading (in USD terms)...
Charts: Bloomberg