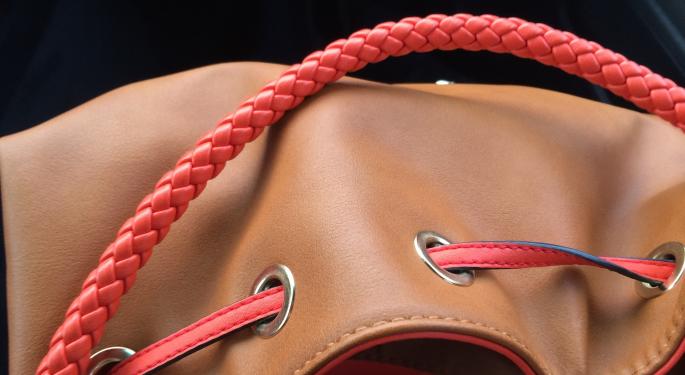 Upcoming earnings highlights include the latest results from two leading consumer goods makers.
Wall Street analysts are looking for earnings growth from just one of them.
However, both have exceeded revenue expectations in recent quarters.
Big retailers begin reporting their fiscal second-quarter results later in the week, but first luxury accessories and apparel makers Coach Inc COH 1.52% and Michael Kors Holdings Ltd KORS 1.49% are expected to take their turns on the earnings stage.
Wall Street's consensus forecast for Coach is for earnings per share to have risen by a dime from the same period of last year to $0.41. That estimate was a penny lower 30 days ago. The consensus of 35 Estimize respondents also calls for $0.41 for the fiscal fourth quarter that ended in June. Note that both Wall Street and Estimize underestimated EPS results in the past two quarters.
Estimize predicts that the revenue of this New York-based maker of leather handbags and accessories will total $1.15 billion for the quarter, up marginally from the year-ago period. Wall Street is a tiny bit more optimistic, with its consensus forecast set at $1.17 billion. Back in the third quarter, Coach's revenue narrowly topped both forecasts.
When Michael Kors, an apparel maker and retailer, shares its fiscal first-quarter results, the Wall Street forecast is that it will post a profit of $0.74 per share and $952.97 million in revenue. That would be down from the earnings of $0.87 per share and revenue of $985.98 million last year. And it also would be the lowest EPS and revenue results in the past eight quarters.
The consensus of 58 Estimize respondents pegs EPS at $0.76, which is above the range of the company guidance, and revenue at $956.75 million for the three months that ended in June. Note that while both Estimize and Wall Street underestimated the top and bottom line numbers in the past four quarters, Michael Kors exceeded its own guidance in the most recently reported two quarters as well.
Coach is scheduled to report its results before the opening bell on Tuesday, while Michael Kors is expected to post its numbers first thing Wednesday morning.
Then on Thursday, some high-profile department store operators are scheduled to share their latest results, thus kicking off the parade of quarterly reports from the big retailers.
The consensus forecasts call for per-share earnings at Kohl's, Macy's and Nordstrom to have declined from a year ago. A net loss is in the cards for J.C. Penney, if the analysts are correct, but it will be smaller than last month and in the same period of last year.
Big Chinese online retailers and Alibaba and JD.com are on tap this week too, and Wall Street expectations are pretty low there as well.
The following week, the retail earnings parade continues, with reports from the likes of Gap, Home Depot, Staples, Target, Urban Outfitters and Wal-Mart.
At the time of this writing, the author had no position in the mentioned equities.
Keep up with all the latest breaking news and trading ideas by following
http://twitter.com/Benzinga
on Twitter.
© 2016 Benzinga.com. Benzinga does not provide investment advice. All rights reserved.