We expect Puma Biotechnology, Inc. PBYI to beat estimates when it will likely report second-quarter 2017 results on Aug 8.
The company's earnings track record has been mixed so far, as it missed estimates in two of the trailing four quarters and met expectations in the other two. The company delivered an average positive surprise of 2.53% in the last four quarters.
Puma Biotechnology Inc Price and EPS Surprise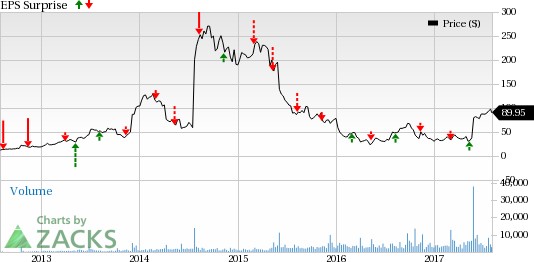 Puma Biotechnology Inc Price and EPS Surprise | Puma Biotechnology Inc Quote
Puma's shares have significantly outperformed the industry, year to date. Shares of the company have soared 181.1%, while the industry recorded an increase of 9.1%.
Last reported quarter, Puma delivered a positive surprise of 5.29%. Let's see how things are shaping up for this announcement.
Factors at Play
Puma Biotechnology's lead pipeline candidate, neratinib, was approved of by the FDA for treatment of HER2-positive breast cancer last month. The FDA approval was a huge boost for the company given the immense commercial potential in the target market.
The drug was launched earlier this week under the brand name, Nerlynx. However, no sales from the drug will be recorded in the second quarter.
Nerlynx is also under review in the EU for the same disease. Several additional studies on Nerlynx targeting different types of breast cancer patient populations are currently underway. Puma believes that Nerlynx can also be developed for treatment of other cancers, including non-small cell lung cancer (NSCLC) and other tumor types which over-express or have a mutation in HER2. In June, the company announced positive results from a single cohort of a three-arm phase II study evaluating neratinib for treating HER2-positive metastatic breast cancer that has metastasized to the brain.
In addition, several phase II combination studies on neratinib for the treatment of breast cancer, are ongoing.
In Apr 2017, Puma presented an encouraging additional data from breast cancer studies at the San American Association for Cancer Research Annual (AACR) on neratinib. These include interim data from a phase II trial on patients with HER2-positive early stage breast cancer, who had completed trastuzumab-based adjuvant therapy; interim phase I/II data from the NSABP FB-10 trial of neratinib plus Kadcyla (T-DM1) in HER2-positive MBC; and finally, a phase II data from SUMMIT study on HER2-negative breast cancer patients with HER2 mutations.
What Our Model Indicates
Our proven model shows that Puma is likely to beat estimates this quarterbecause it has the right combination of two key ingredients. For astock needs to have both a positive http://www.zacks.com/earnings/earnings-surprise-predictions/">Earnings ESP and a Zacks Rank #1 (Strong Buy), 2 (Buy) or 3 (Hold) for this to happen.
Zacks ESP: Earnings ESP, which represents the difference between the Most Accurate estimate of a loss of $2.03 and the Zacks Consensus Estimate of a loss of $2.10, stands at +3.33%. This is a leading indicator of a likely positive earnings surprise. You can uncover the best stocks to buy or sell before they're reported with our Earnings ESP Filter.
Zacks Rank: Puma currently carries a Zacks Rank #3 (Hold), which increases the predictive power of ESP and its positive ESP further makes us confident about an earnings surprise.
We caution against the Sell-rated stocks (#4 or 5) going into the earnings announcement, especially when the company is seeing negative estimate revisions.
Other Stocks That Warrant a Look
Here are some health care stocks to consider, as our model shows that these have the right combination of elements to come up with an earnings beat this quarter.
Syndax Pharmaceuticals, Inc. SNDX is expected to release results on Aug 8 with an Earnings ESP of +9.88% and a Zacks Rank #2. You can see the complete list of today's Zacks #1 Rank stocks here.
Arena Pharmaceuticals, Inc. ARNA is scheduled to release results on Aug 7. The company has an Earnings ESP of +5.88% and a Zacks Rank #2.
Zoetis Inc. ZTS, which is scheduled to release results on Aug 8, has an Earnings ESP of +1.89% and a Zacks Rank #3.
More Stock News: Tech Opportunity Worth $386 Billion in 2017
From driverless cars to artificial intelligence, we've seen an unsurpassed growth of high-tech products in recent months. Yesterday's science-fiction is becoming today's reality. Despite all the innovation, there is a single component no tech company can survive without. Demand for this critical device will reach $387 billion this year alone, and it's likely to grow even faster in the future.
Zacks has released a brand-new Special Report to help you take advantage of this exciting investment opportunity. Most importantly, it reveals 4 stocks with massive profit potential. See these stocks now>>
Want the latest recommendations from Zacks Investment Research? Today, you can download 7 Best Stocks for the Next 30 Days.
Click to get this free report
Arena Pharmaceuticals, Inc. (ARNA): Free Stock Analysis Report
Syndax Pharmaceuticals, Inc. (SNDX): Free Stock Analysis Report
Puma Biotechnology Inc (PBYI): Free Stock Analysis Report
Zoetis Inc. (ZTS): Free Stock Analysis Report
To read this article on Zacks.com click here.
Zacks Investment Research