Caterpillar Inc.'s CAT shares attained a 52-week high of $115.25 during intraday trading on Aug 8, finally closing lower at $114.41. The company has delivered a one-year return of about 43%. Caterpillar has a market cap of $67.61 billion. Average volume of shares traded in the last three months was approximately 4.45 million.
What's Driving Caterpillar?

Caterpillar delivered another upbeat quarter with adjusted earnings per share of $1.49 in second-quarter 2017, logging a 37% improvement year over year and also outpacing the Zacks Consensus Estimate of $1.26. The better-than-expected results were driven by the company's disciplined cost-control efforts. Revenues improved 9.6% year over year to $11.3 billion in the quarter, also surpassing the Zacks Consensus Estimate of $10.9 billion. Favorable price realization and higher sales volume, with most significant increase witnessed in Construction Industries owing to higher end-user demand for construction equipment led to the improvement.
At the end of second-quarter 2017, Caterpillar's backlog was at $14.8 billion that improved by about $3 billion year over year driven by improvement across all segments, particularly in Construction and Resource Industries.
This follows a stellar first quarter wherein Caterpillar reported year-over-year improvement in both top and bottom lines for the first time in 10 quarters. Consequently, the company has outperformed the industry on a year-to-date basis. Shares have gained 26.3% while the industry registered an increase of 24.2%.





Owing to the upbeat first-half performance, improved order activity and disciplined cost control, Caterpillar also hiked revenue guidance during second quarter conference call to the range of $42–$44 billion from the prior range of $38–$41 billion. The company now projects earnings per share of $5.00 per share compared with previous guidance of $3.75 per share. In 2017, restructuring costs will be around $1.2 billion. The mid-point of the revenue guidance and earnings per share guidance reflect a year-over-year growth of 12% and 46% respectively.

Quoting activity remains promising in many of Caterpillar's markets and retail sales are trending positive for both machines and Energy & Transportation In construction, Asia Pacific is showing promise while leading indicators of U.S. construction signal robust conditions ahead. The company's efforts to reduce costs will continue to boost margins. Going forward, the company is expected to benefit from President Trump's plans of big spending in infrastructure as it is anticipated to play a major role in the national infrastructure plan.

Caterpillar, Inc. Price and Consensus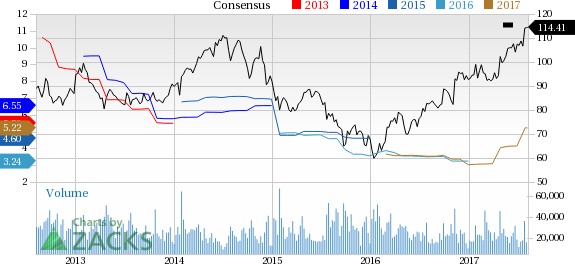 Caterpillar, Inc. Price and Consensus | Caterpillar, Inc. Quote

Estimates for Caterpillar have moved up in the past 30 days, reflecting the optimistic outlook of analysts. The earnings estimate for fiscal 2017 has gone up 26% while that of fiscal 2018 has moved up 27%. The Zacks Consensus Estimate for fiscal 2017 is at $5.22, reflecting a projected 52.50% year-over-year growth and the same for fiscal 2018 is at $6.63, a 27.14% year-over-year growth.

Caterpillar currently sports a Zacks Rank #1 (Strong Buy). The company has a long term expected earnings growth of 9.50%.

Some other top-ranked stocks in the same sector include Terex Corporation TEX, AGCO Corporation AGCO and Apogee Enterprises, Inc. APOG. While Terex and AGCO flaunt the same rank as Caterrpillar, Apogee carries a Zacks Rank #2 (Buy). You can see the complete list of today's Zacks #1 Rank stocks here.

Terex has expected long-term growth rate of 19.67%.

AGCO has expected long-term growth rate of 13.51%.

Apogee has expected long-term growth rate of 12.50%.

More Stock News: Tech Opportunity Worth $386 Billion in 2017

From driverless cars to artificial intelligence, we've seen an unsurpassed growth of high-tech products in recent months. Yesterday's science-fiction is becoming today's reality. Despite all the innovation, there is a single component no tech company can survive without. Demand for this critical device will reach $387 billion this year alone, and it's likely to grow even faster in the future.

Zacks has released a brand-new Special Report to help you take advantage of this exciting investment opportunity. Most importantly, it reveals 4 stocks with massive profit potential. See these stocks now>>
Want the latest recommendations from Zacks Investment Research? Today, you can download 7 Best Stocks for the Next 30 Days.
Click to get this free report
Apogee Enterprises, Inc. (APOG): Free Stock Analysis Report
Terex Corporation (TEX): Free Stock Analysis Report
Caterpillar, Inc. (CAT): Free Stock Analysis Report
AGCO Corporation (AGCO): Free Stock Analysis Report
To read this article on Zacks.com click here.
Zacks Investment Research