Big Russian ETF up 25% from its December low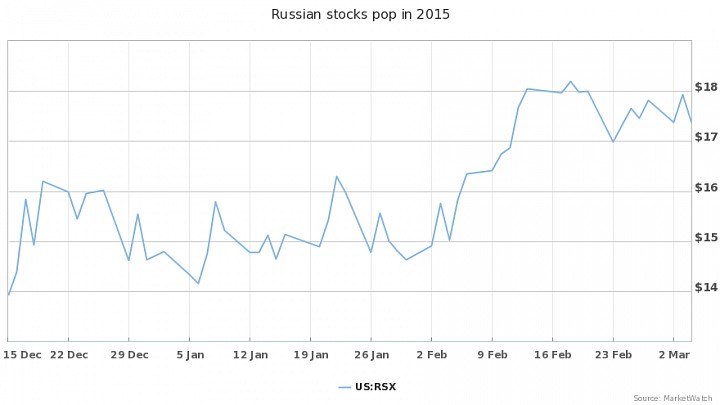 If you scan the latest headlines for Russia, the situation looks bleak.
An opposition leader was just murdered, and Western leaders warn of further sanctions against Moscow in the event of renewed violence in Ukraine. While prices for crude oil CLJ5, +0.79% LCOJ5, +1.11% —a major Russian export—have stabilized, they're still down sharply from mid-2014.
Nonetheless, Russian stocks have surged higher in 2015. The Market Vectors Russia ETF RSX, +1.72% on Feb. 18 finished up 31% from its Dec. 15 closing low. It's since pulled back, but it's still up 25% from that December low, as shown in the chart above. A rally of 20% from a bottom often gets described as a bull market.
Factors that may have helped Russian stocks include "a little bounce in oil" and the fragile cease fire in Ukraine, according to Nick Smithie, chief investment strategist at Emerging Global Advisors, an ETF provider focused on developing markets. But Smithie said he doesn't see any big fundamental drivers for the rally, arguing instead that it's largely been a successful reversal trade after Russian stocks plunged in 2014 and became "oversold."
"I don't think there's anything in particular that's happened there," Smithie told MarketWatch. "I think it's a trader's market."
Smithie contended in December that "there is simply no reason to buy Russia," and he said Wednesday that he hasn't changed his view. He said he thinks investors are currently more interested in reform plays like India rather than deep-value bets like Russia. His company offers India ETFs such as the EGShares India Consumer ETF INCO, +1.25%
Still, Russian stocks lately have trounced other markets. The Market Vectors Russia ETF is the second-best performer in the year to date among non-U.S., country-specific, equity ETFs, climbing 22.6%. That's according to XTF.com data as of Tuesday that excludes leveraged ETFs. Only the Market Vectors ChinaAMC SME-ChiNext ETF CNXT, +1.06% which tracks 100 small- and medium-cap Chinese companies, has fared better, gaining 22.8%. The India consumer ETF is seventh best, up 14.9%.
It is worth noting that the Market Vectors Russia ETF remains far off its 2008 peak, down by more than two-thirds, as the chart below shows. What's more, there was excitement about Russian stocks entering into a bull market in mid-2014, right before they cratered.
Investing in Russian stocks or other value plays is hard, as Meb Faber put it in a blog post last year. Headlines are negative, it's not popular or patriotic and there is "a nonzero risk of the investment going to zero," wrote Faber, an author and Cambria Investment Management's chief investment officer.
The Market Vectors Russia ETF is the largest Russian ETF with $1.9 billion in assets, as well as ETF.com's top pick for investing in Russian stocks. Competitors include the iShares MSCI Russia Capped ETF ERUS, +1.41% and the SPDR S&P Russia ETF RBL, +1.00%