The AUD/NZD pair has been consolidating in a range between 1.0890 and 1.1428 since the beginning of July. Before that we saw a rally from April through June. The latest range, which is now spanning over 3 months is still intact, but price ended last week pushing towards the critical support at 1.0890.

AUD/NZD Daily Chart 10/3/2015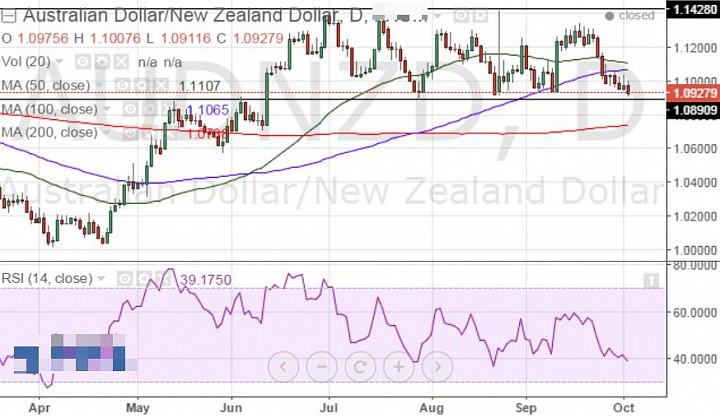 (click to enlarge)

While it might be sensation to believe that the market will break down the range and go for a bearish outlook, we should not jump the gun. We might still see support here around 1.09. If we play the support from here, we would be going in the direction of the prevailing trend before the range. We should have 2 expectations for a bounce. 1) We might see a weak bounce if the market is trying to form a top. Let's keep a conservative bullish outlook to 1.12. A more aggressive one should target the 1.14-1.1428 highs. At this point, if price DOES reach 1.14-1.1428, we can start considering a bullish breakout, but let's not get ahead of ourselves for now, because we need to see what happens here around 1.09 first. 
If price DOES break below 1.0890, we might see a sharp slide towards the 1.06 handle. Since the width of the range is a little over 530 pips, we can project a target about 500 pips below 1.0890, which puts the 1.0390-1.04 area in play. After a break below 1.0890, a subsequent pullback should see resistance around 1.10. If 1.10 does provide resistance, the 3-month range we see now more would likely turn into a price type.