The Bank of Japan met to vote on monetary policy and concluded with nothing new. It is maintaining the pace of its aggressive monetary easing in the face of low inflation. Low inflation has been prolonged due to the fall in energy prices. 
We can forgive this recent bout of disinflation because of falling oil prices because we are seeing the same thing in other countries as well. But for Japan, this inflation issue is a chronic issue that BoJ chief Kuroda has been tackling with for the past 2 years. 
It is still too early to say whether this disinflation/deflationary mode is temporary (due to oil prices), or part of its long standing problem. If we see inflation in other developed countries start to pick up while prices remain flat or declining in Japan, then we might want to expect some extension or expansion of the current stimulus program. That would pressure the JPY further. However, today's statement did give rise to this scenario just yet. Still, the JPY should not be able to find any strength based on fundamentals except for some short-term corrections. It is still medium-term, long-term bearish, especially to the USD, because the FOMC is on the opposite charge as the BoJ - it is planning to tighten up monetary policy and raise rates this year.}
USD/JPY 4H Chart 3/17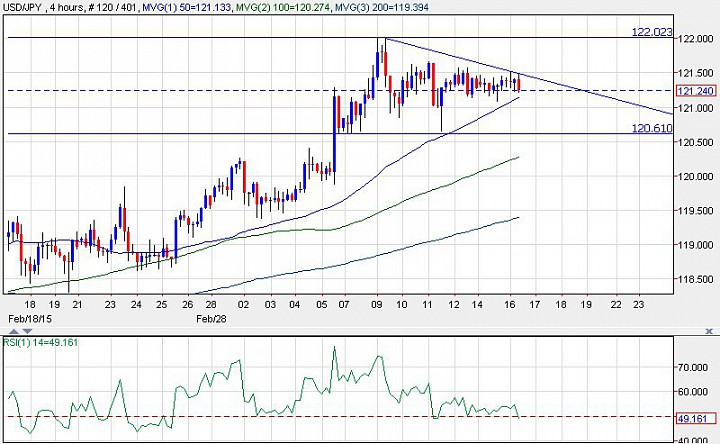 (click to enlarge)
The 4H chart shows a market that has been consolidating since hitting a high on the year at 122, which also broke the 2014-high of 121.70, barely. Despite the consolidation, the technicals remain bullish. A break above 121.50 should expose the 122 high with risk of pushing beyond. 
A break below 120.60 would be needed to put in a price top and signal a short-term bearish correction that can lead to a medium-term consolidation. However, because the prevailing uptrend since 2011/2012 is still in play, we should expect the market to buy on dips if the 4H chart starts to show oversold conditions for example. As far as price, the area around 119.50 is a support/resistance pivot area, and is a very likely support if the RSI is also in oversold territory (at or below 30).