Summary
The decline in oil & gas commodity prices have significantly reduced the share prices of energy-related companies.
Energy infrastructure has provided a more stable route for steady income streams.
The long-term futures of many energy-related companies continue to remain intact and provide ideal dividend opportunities.
Uncertainty now reigns in the volatile oil & gas industry where falling crude oil & gas prices have severely hampered the outlook of the market. Drilling activity has been cut in half over the past year while overproduction continues to keep global stockpiles well supplied in the face of weakening global demand in the present. While the long-term future of the commodity's price is expected to recover, energy-related companies as a whole have been sold off by the market as a result of the poor investment environment.
In the midst of the volatility, investors who stand by the principle of "buying low and selling high" might now find that the market to be ripe with potential opportunities. This comes as the first signs of oil price stability begin to emerge. Rig activity has recently shown some of its first increases in months, oil prices have steadied between $40 to $60 per barrel, and U.S. crude oil inventories have shown some sporadic decreases in recent weeks.

For those looking to balance out the energy portion of their income portfolios, reduced equity prices and stable dividend rates have provided higher annual yields to many of these industry-associated names. The following represent three particular companies with exposure to energy that may be ideal in balancing out an investor's portfolio in light of their unique circumstances.
With its $76 billion market capitalization, Kinder Morgan remains one of the usual suspects included in the holdings of many energy funds given its large influence in the energy infrastructure market. The company owns approximately 84,000 miles of pipelines and 165 terminals. It also transports and stores a wide range of commodities and materials including natural gas, crude oil, refined petroleum products, and carbon dioxide. The company currently supports an annual dividend yield of approximately 5.6%.
Unlike exploration and production companies, Kinder Morgan derives the bulk of its revenue from energy transportation which continues to bypass much of the impact of falling commodity prices. However, whether the company can continue to expand at a rate that is fast enough to sustain growth investors remains a question yet to be answered. Modest sequential declines in revenue and earnings in recent quarters have spooked investors into selling off the company in recent months.
Kinder Morgan also supports a rather highly leveraged balance sheet considering its current valuation. At the end of March 2015, the company carried $51.14 billion in total liabilities compared to the $35.03 billion in total shareholder equity. Investors should also remain cautious, however, given the company's $24.91 billion in goodwill and $3.76 billion in intangible assets. This could leave open the door for potential impairments, especially given the poor market environment in the present.
Nevertheless, the company continues support it's high dividend rate which has steadily grown over the years. This can be seen in the chart below. Management also continues to show strong support for the company as witnessed by insider purchases made over the past few weeks. This is highlighted by the direct $17.7 million purchase made by director Fayez Sarofim and the $11.4 million of company stock purchased by Executive Chairman Richard Kinder since early June.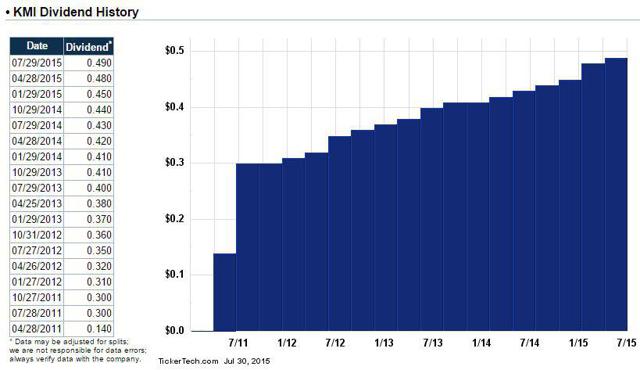 Strengths: Strong institutional investor support; Stable sector within the industry; Continued insider buying; Diversified business operations.
Weaknesses: Questionable growth opportunities; Highly leveraged balance sheet.
Where Kinder Morgan benefited from its size, diversification, and institutional support, CorEnergy Infrastructure excels with its much smaller profile and structure as a real estate investment trust [REIT]. Similar to Kinder Morgan in that the company specializes in energy transportation and infrastructure, CorEnergy differs in its ability to more effectively pass income through to its investors as a result of its favorable tax structure. This typically results in a higher yield for income investors. Beginning in Q3 2015, the company expects to increase its quarterly dividend from $0.54 to $0.60 per share. This will result in an annual yield of approximately 9.6% based on the current intraday share price of $6.22 as of July 30.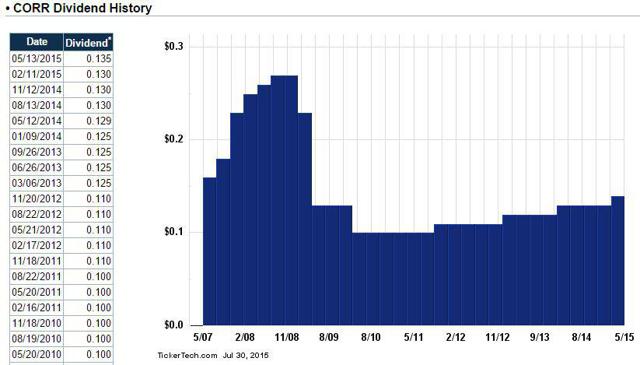 With its small profile, the company has also been able to rapidly expand and maneuver over the past year. CorEnergy reported total assets of $283.88 million at the end of 2013. In November 2014, the company acquired the MoGas pipeline for $125 million. In June 2015, CorEnergy completed the acquisition of the Grand Isle Gathering System for $245 million. In approximately one year the company was able to double its size and significantly improve its cash flow while also maintaining a path towards growing its dividend rate.

Absent of the Grand Isle Gathering System, the above graphic displays the company's diversification in revenue generating assets. Despite having a broad geographic diversification of its assets, the company still remains highly concentrated around core business units. This leaves the company open to potential concentration risks associated with that dependency should issues arise in those key units. Nevertheless, as the company continues to grow, this risk can be further mitigated through a growing diversification and expansion of the company's asset portfolio.
Strengths: REIT tax structure; High dividend yield; Strong growth opportunities.
Weaknesses: Highly dependent on key revenue generating assets.
Golar is a liquefied natural gas transportation company that is transitioning into becoming a fully integrated mid-stream services provider covering floating LNG liquefaction, shipping, and regasification services. The company specializes in LNG carriers, and as of April 2015 Golar owned 25 vessels. Of this fleet, 19 vessels are LNG carriers and 6 vessels are floating storage regasification units [FSRU]. Golar's FSRUs are converted LNG carriers which have been repurposed for long-term floating storage and regasification service.
What makes the company rather unique is its industry-leading position in the development of floating infrastructure facilities. In light of the current market environment, Golar continues to see robust interest in its floating facilities as a means to fast-track the development of stranded and associated gas. Such gas resources are often wasted or unused, but the development of these resources through the low-cost conversion of existing ships allows for a rapid deployment and early return on investment. It also presents a significantly lower risk than the expensive and lengthy timeframe required for an investment into dedicated land-based facilities.
By expanding its business operations beyond shipping, Golar expects to significantly improve its future earnings. The company recognized a mere $106 million in revenue and saw a loss of $43.12 million in 2014. However, much growth lies ahead. For example, the company's floating liquefied natural gas export project off of the coast of Cameroon by itself is expected to increase the company's EBITDA by $170 million to $300 million in its first year of operation. Production in this project is expected to commence in Q2 2017.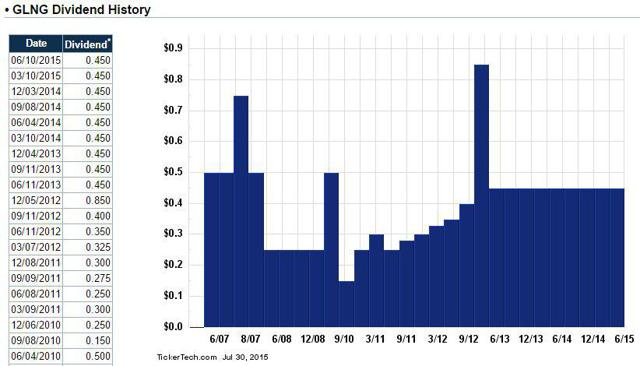 Golar now trades with a market capitalization of $4.03 billion based on the intraday share price of $43.11 as of July 30. For several years the company has maintained its current quarterly dividend rate of $0.45 per share resulting in an annual dividend rate of $1.80. This amounts to an annual yield of 4.2% with the prospect of future growth as the company returns to profitability amidst its ongoing transition.
Strengths: Diversifying revenue streams; Strong growth prospect; Low-cost conversion model provides a de-risking value proposition amidst industry uncertainty.
Weaknesses: Near-term instability of business operations; High dependence on the success of future projects.
Final Thoughts
When combined, the above three companies provide a rather high income component for energy companies that are not structured in a master limited partnership. The average dividend yield of the of three companies is approximately 6.5% which is far more lucrative than the current yield of the market as a whole. The current S&P 500 dividend yield is 1.98% as of July 2015.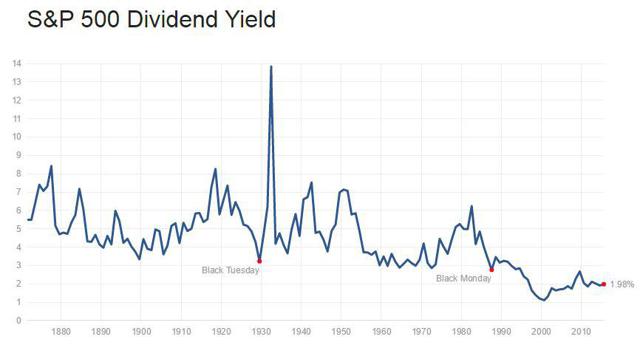 Each of the above companies were chosen not only for their above-average yields but were also chosen for their distinct features which could complement an existing energy dividend portfolio. Kinder Morgan offers a greater degree of stability, CorEnergy offers a high yield through a favorable tax structure, and Golar provides exposure to LNG shipping/infrastructure with the forward-looking prospect of strong growth.
More