Going into last Wednesday's second GOP primary debate hosted by CNN at the Reagan Library, all eyes were again on frontrunner Donald Trump, but this time around, he was forced to share the spotlight with former Hewlett-Packard chief Carly Fiorina, whose polished responses and straightforward demeanor during the second tier debate last month won her a spot on the main stage this time around.
Perhaps sensing that Fiorina was set to go from also-ran to contender, Trump let the following slip in the presence of Rolling Stone's Paul Solotaroff: "Look at that face! Would anyone vote for that? Can you imagine that, the face of our next president. I mean, she's a woman, and I'm not s'posedta say bad things, but really, folks, come on. Are we serious?"
Well, say what you will about Fiorina but if there's anything she is it's serious, and when asked point blank about Trump's comment at the debate, she turned The Teflon Don's own attack on Jeb Bush against him: 
Sadly (in terms of what this says about the state of American politics), that was just about the only notable thing to come out of what ultimately turned out to be a painful, hours-long circus but as you might have surmised from the post-debate punditry parroting, Fiorina managed to steal the show and now, according to the latest CNN/ORC poll released on Sunday, she's rocketed from 3% all the way into second place as Trump slides hard, polling at 24% from 32% (via Reuters):
Billionaire Donald Trump remains in first place in the race to win the Republican presidential nomination for 2016, but his support has fallen to 24 percent from 32 percent previously, a CNN/ORC poll released on Sunday shows.

 

Former Hewlett-Packard chief executive Carly Fiorina, considered to have performed well in a CNN-sponsored debate of Republican candidates on Wednesday, shot up to second place with 15 percent from only 3 percent in early September, the poll showed.

 

The poll was conducted among 1,006 Americans from Sept. 17 to 19, and had a margin of error of plus or minus 3 percentage points.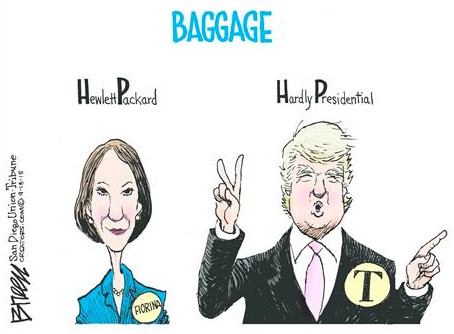 As for the man who used to be in second place, neurosurgeon Ben Carson, well, he spoke to NBC's "Meet the Press" on Sunday and offered his take on Muslims in American politics. We present Carson's comments with no further comment.
Via WSJ:
The question was in the context of Donald Trump on Thursday not correcting a New Hampshire town hall questioner who asserted President Barack Obama is Muslim and proposed "getting rid" of purported Muslim "training camps" in the U.S.

 

"It depends on what that faith is," replied Mr. Carson, a retired neurosurgeon who is a practicing Seventh-Day Adventist. "If it's inconsistent with the values and principles of America, then of course it should matter. But if it fits within the realm of America and consistent with the Constitution, no problem."

 

Mr. Todd asked if Mr. Carson believes Islam is "consistent with the Constitution."

 

"No, I do not," Mr. Carson answered. He then added: "I would not advocate that we put a Muslim in charge of this nation.  I absolutely would not agree with that."

 

 

Mr. Carson did allow that he could envision backing a Muslim candidate for Congress.

 

"Congress is a different story," he said. "But it depends on who that Muslim is and what their policies are, just as it depends on what anybody else says, you know. And, you know, if there's somebody who's of any faith, but they say things, and their life has been consistent with things that will elevate this nation and make it possible for everybody to succeed, and bring peace and harmony, then I'm with them."