Bitcoin consolidated, then tried to break towards 8000 USD, but retreated sharply after tagging 7800 USD.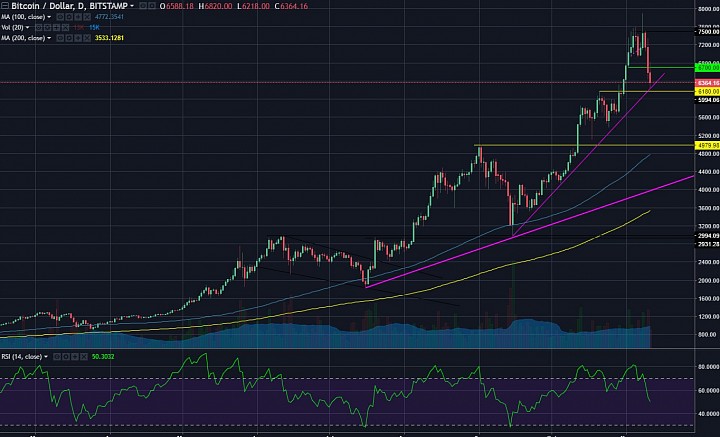 (click to enlarge)
Support Levels:
- The daily chart above shows price in a pullback.
- Around 6200, BTCUSD meets the first key support.
- This was a previous resistance area, and also where a rising trendline is challenging the dip.
- It feels like the correction is not over, but we might get some buying here at 6200.
- Let's see how price reacts if it gets back around 7000.
- A market still in correction might be selling around 7000.
- If price breaks below 6200 and then 6000, the prospect of 5000 opens up.
- We should probably limit the most aggressive bearish outlook to be around 5000.
- Here price will be caught up by the 100-day simple moving average (SMA).
- There is a previous support/resistance area.
- Finally, a rising trendline is going to be challenging the dip.
- I think price will probably find support above 5000. Or if it gets to 5000, it won't stay there long. There are too many people calling for 5000 and getting ready to buy around there for price to dip below or hang around 5000.