With the seemingly relentless rally in pizza stocks one could be forgiven that it will never stop. This is where Elliott Wave can help suggest a trend change, or at least offer some direction to the next potential move. The look from the Feb 2016 lows appears to count as 5 waves, so it qualifies nicely as an impulse wave, the strong move in the middle fits the profile of a 3rd wave (which is usually the strongest section of an impulse wave). The recent 3 wave decline i think fits better as a large 4th wave and aligns nicely with the previous correction between Feb – May 2016.
The rally from the Oct 2016 lows counts as 5 waves, so there are enough gyrations to suggest the trend from the Feb 2016 lows could well be coming to an end. So if you happen to own this stock I would seriously consider lifting stops to 82.57 (last swing low). If the idea is correct and its close to end a 5 wave advance, then it could well be on the verge of a trend reversal, and you dont want to be a bag holder buying the highs.
Aggressive traders can wait for an impulsive break under 82.57 to initiate short positions. Looking at the weekly and monthly charts, this high could well be a very significant peak.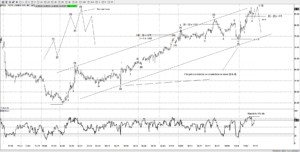 Do you have a stock that you want analyzing? Then why not purchase an Elliott Wave Report, it may just save you a small fortune.
More