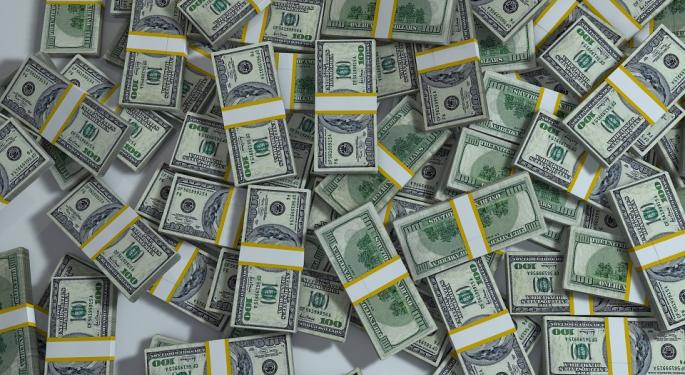 The first-quarter earnings reporting season kicks off this week.
Among the first companies to share their results will be the big U.S. banks.
Wall Street analysts are looking for shrinking earnings from them.
The new earnings season kicks off this week, and among the earliest to report their first-quarter results will be the big U.S. banks. Judging by the consensus forecasts of Wall Street analysts, expectations are somewhat muted for Bank of America Corp BAC, Citigroup Inc C and Wells Fargo & Co. Not only are shrinking earnings predicted, but earnings expectations have been slipping over the past 60 days or so.
Below is a quick look at what is expected from the reports of these three leading banks, as well as a peek at some of the other companies that also are on tap to post quarterly results this week.
Bank of America
In its report early on Thursday, this North Carolina-based money center bank is expected to say that in the first quarter it had earnings of $0.26 per share, according to 52 Estimize respondents. That would be a penny less than in the corresponding quarter of last year. The Wall Street consensus estimate is just $0.21 per share, though it was up at $0.30 per share just 60 days ago.
Like Wall Street, Estimize overestimated Bank of America revenue in the previous quarter, and this time Estimize is looking for about $20.97 billion. The analysts' forecast calls for $20.33 billion, which would be around 5 percent lower year over year, as well as the second lowest figure in the past two years. Furthermore, Wall Street so far sees revenue for the full year up fractionally from a year ago.
See also: Analysts See Better Earnings Coming By Land Or By Air?
Citigroup
The consensus Wall Street forecast calls for this New York-based financial services company to post first-quarter earnings per share (EPS) of $1.07 (or down by almost a third from in the year-ago period) and for revenue to have fallen around 11 percent to $17.61 billion. EPS have topped expectations in the past four periods by at least a penny. But 60 days ago the analysts' EPS estimate was up at $1.38.
Here too Estimize is more optimistic, with the consensus of 28 respondents pegging results at $1.19 per share and $18.14 billion for the three months that ended in March. Yet note that Estimize overestimated earnings but underestimated revenues back in the third quarter. Citigroup is scheduled to share its latest results before Friday's opening bell.
Wells Fargo
If the consensus of 34 Estimize estimates is correct, this San Francisco-based banking services provider will post $1.00 per share earnings for its first quarter. That compares to EPS of $1.04 in the year-ago period and a current Wall Street estimate of $0.98. While earnings have not fallen short of Wall Street forecasts in the past few periods, Estimize did overestimate EPS in two of the past three quarters.
However, both Estimize and Wall Street overestimated revenue in the previous quarter, For the three months that ended in March, they are looking for $21.66 billion and $21.62 billion, respectively, ehen Wells Fargo reports early on Thursday. That would be a gain of less than 2 percent from the same period of last year, and also the second highest quarterly revenue posted in the past two years.
And Others
Other companies that Wall Street analysts expect to show at least some earnings growth when they report this week include Delta Air Lines, Fastenal, Infosys and Progressive. EPS at Alcoa, CSX, JPMorgan and PNC Financial will be smaller than a year ago, if the consensus forecasts are correct.
In the following week, the new earnings season ramps up, with results expected from American Express, Coca-Cola, Goldman Sachs, General Electric, General Motors, Google, Intel, Johnson & Johnson, McDonald's, Microsoft, Netflix, PepsiCo, Philip Morris, Starbucks, Verizon, Yahoo and many more.
At the time of this writing, the author had no position in the mentioned equities.
Read more: http://www.benzinga.com/news/earnings/16/04/7822596/big-banks-in-the-spotlight-as-new-earnings-season-begins#ixzz45Wbhxivn