After a terrible Q1, the U.S. market gathered steam to start Q2. A volley of upbeat U.S. economic data and the long-needed jump in oil prices led to this market recovery. Also, a dovish Fed which showed no urgency in policy tightening made matters easier. But has everything taken a positive turn in the U.S. economy?

Though the odds of a U.S. recession are pretty low at the current level (or nil to tell you the truth), the fact remains that the U.S. economy is far from being healthy. We are about to see meager GDP growth for Q1. And IMF, while slashing global growth forecasts recently, reduced the U.S. growth forecast for the year too from 2.6% to 2.4%.

In such a scenario, what should be your best bet on the modest rally in stocks while insulating from a slowing growth outlook? In our opinion, it has to be the mid-cap value ETF corner. We'll tell you why (read: Winning ETF Strategies for Q2).

Why Mid-Cap?

As noted earlier, U.S. growth is slowing with retail sales dipping in March and consumer spending struggling hard. So a bet on small-cap stocks is not reasonable. Since consumer spending makes up about 70% of the U.S. GDP, this blow to retail sales stokes fears of a meaningful slowdown. All these sap demand for small-cap stocks and the related ETFs as this part of the capitalization spectrum better reflects the domestic economic health.

Large caps have wider foreign exposure. For long, this segment has been out of investors' favor due to the rising greenback. But the U.S. dollar will remain softer in the coming days as the Fed will remain data-driven and has hinted at just two rate hikes this year. This fact has widened the scope for outperformance for those companies that operate aggressively in foreign lands.

But there is also risk; growth issues are also looming large. European worries, slowdown in China, recessionary threats in Japan and emerging market uncertainty are holding us back from being benign on large-cap investing.

This makes mid-cap ETFs more intriguing as these offer the best of both worlds and get mileage out of a relatively well-positioned U.S. growth rate among developed countries. Many mid-caps have some foreign exposure, but not at a heightened level. Thus, a softer dollar on a dovish Fed and a slowly improving U.S. economy make a winning combination for mid-cap ETFs (read: Best Performing Currency ETFs of Q1).
 
Why Value?
 
Picking value securities in this capitalization level allows investors to earn more returns. This is because since the market has been rocky lately, the benchmark treasury yields are at subdued levels. Since growth issues will keep bothering the broader market ahead, staying on the value spectrum seems wiser for now.
 
We have found a number of mid-cap value ETFs, each of which has a Zacks ETF Rank #1 (Strong Buy) and is expected to outperform in the near term (read: 5 ETFs for Portfolio Safety, Stability and Diversification).
 
Vanguard Mid-Cap Value ETF (VOE)

This $4.66-billion fund charges 9 bps in fees. It holds 204 stocks, which are well spread across each component as none of these holds more than 1.2% share. Financials takes the top spot with one-fourth share while consumer goods, industrials, consumer services and utilities round off to the next four spots with a double-digit allocation each. The fund yields 2.30% annually (as of April 22, 2016).

WisdomTree MidCap Dividend Fund (DON)

This ETF provides exposure to the mid-cap segment of the U.S. dividend paying stocks. The $1.65-bilion fund charges 38 bps in fees.  Holding 401 stocks in its basket, the product is widely diversified across each component with each holding less than 2.06% of assets (read: 4 ETFs Surge to Top Rank Ahead of Q1 Earnings).

From a sector look too, the fund is pretty well spread out with financials, consumer discretionary, utilities and industrials taking double-digit exposure each. DON yields 2.20% annually (as of April 22, 2016).

Guggenheim S&P MidCap 400 Pure Value ETF (RFV)

The $115.7-million fund picks those S&P Midcap 400 companies that have strong value characteristics. The maximum weight a stock gets in the fund is 3.26%. Industrials, consumer discretionary, materials, financials and information technology have double-digit weight in the fund. The 97-stock fund charges 35 bps in fees.

PowerShares Russell Midcap Pure Value Portfolio ETF (PXMV)

This $42.9-million ETF holds 156 stocks in total. The fund has a spread-out approach in stock-picking while putting 41.3% of its weight in the financial sector. The fund charges 40 bps in fees and yields about 2.37% annually (as of April 22, 2016).

First Trust Mid Cap Value AlphaDEX Fund (FNK)

This $42.9-million product employs the NASDAQ AlphaDEX Mid Cap Value Index. This 225-stock fund does not put more than 0.89% weight in any single stock.  Financials makes up for the top sector at roughly 31.45% share. It charges 70 bps in annual fees.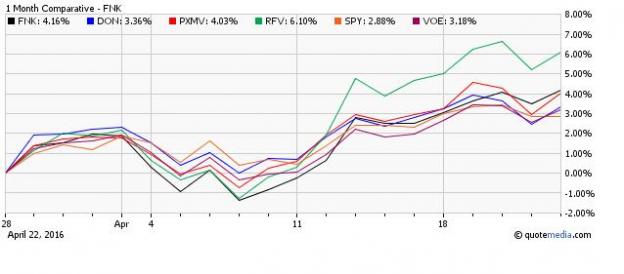 Want the latest recommendations from Zacks Investment Research? Today, you can download 7 Best Stocks for the Next 30 Days. Click to get this free report >>
Want the latest recommendations from Zacks Investment Research? Today, you can download 7 Best Stocks for the Next 30 Days.
Click to get this free report
To read this article on Zacks.com click here.
Zacks Investment Research
Want the latest recommendations from Zacks Investment Research? Today, you can download 7 Best Stocks for the Next 30 Days. Click to get this free report