While today's economic data is likely too late to influence the Fed's decision which is now due in just over 5 hours, moments ago the latest housing starts and permits data painted another mixed picture, with Starts declining to a three month low of 1,126K, missing expectations of 1160K, and below last month's downward revised 1161K. The miss was a result of housing starts in the Northeast tumbling by 34% to 108K, the lowest prince since March now that the tax-driven surge, which we discussed previously expired in July, is over.
In August, while single-family starts dropped, so did multi-family or rental units. Notably, while housing starts are still just barely above half the pre-crisis peak, rentals continue to rise ever higher as more and more Americans have no choice but to downgrade their American dream to renting for life.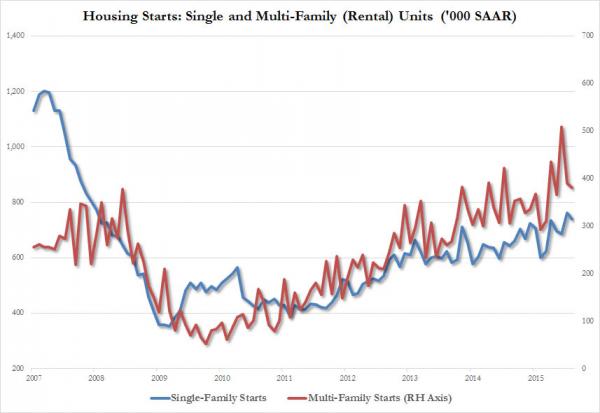 But while starts data was slightly weaker than expected, permits came in a fraction hotter, at 1170K, up from a revised 1130K, and above the 1159K expected. Like with starts, Northeast saw a decline but far less pronounced at just -4.4%, while all other regions saw a modest pick up. And just like with starts, multi-family permits continue to rise well above single family, up 21.5% vs 8.7% respectively.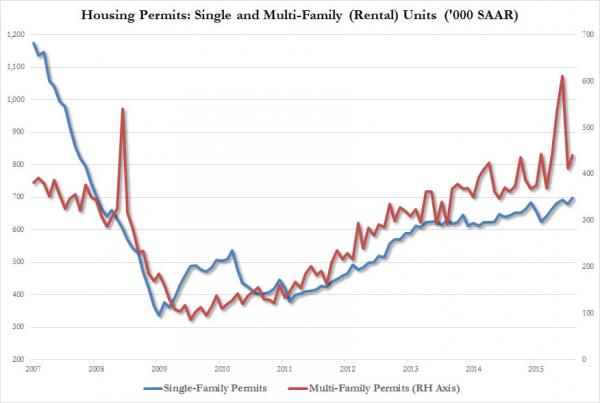 So if the Fed's intention with 7 years of ZIRP was to force the middle class out of owning a house and into renting, it has succeeded.