An overall theme of USD weakness is evident in the charts today.  The NZD set up nicely an hour before the US traders began their day.   The NZD made 3 attempts but was unable to close below the Asian session low. A bullish candle followed and an entry is taken with a 13 pip stop loss.  As the US session was about to begin, the stop loss is moved up to plus one pip - in the event that US traders push the market back down.
Price begins to move up after a brief pullback.  The pair gains momentum rising through the Asian session high and yesterday's high, before pausing at our Target 1.  We give it a second chance to move and stay above Target 1 , but as price dips below it, we close the trade to protect our profits. Price subsequently makes it to Target 2 without us, before pulling back at the UK Close.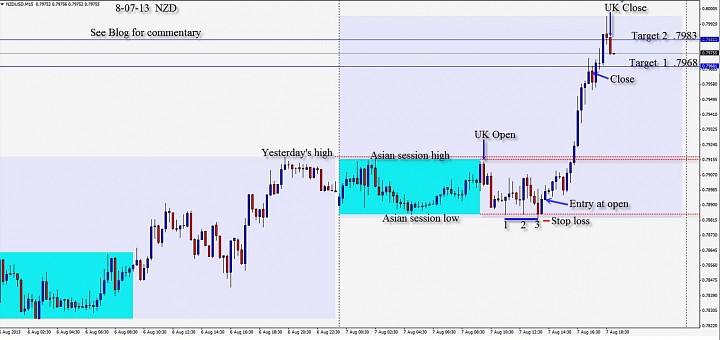 Trading has been tricky of late and this is the first trade that we have been comfortable with in the past week.  It is always best to be patient and disciplined in trading.  If the familiar high probability setups are not there...it's best to sit on one's hands.  Much of Europe is on holiday this month, so if the trading is a little slow or the charts appear to be less clear, it may be due to summer holidays.
Good luck with your trading!
Back tomorrow if we can find a trade.
Michael  
www.privateforexcoaching.com