The GBP/AUD has been rallying since the April low of 1.7727. This rally is a bullish correction against the prevailing downswing from 1.8822 to 1.7727.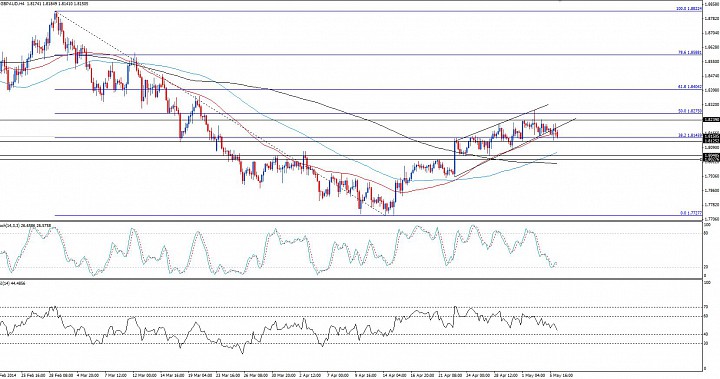 (gbpaud 4h chart, 5/6)
The bullish correction has been stalling since hitting 1.8240. There was a brief spike to 1.8290, but we can say that the market has stabilized against the rally under the 50% retracement level (1.8275). 
Looking at the 1H chart, we can see that the market might be topping.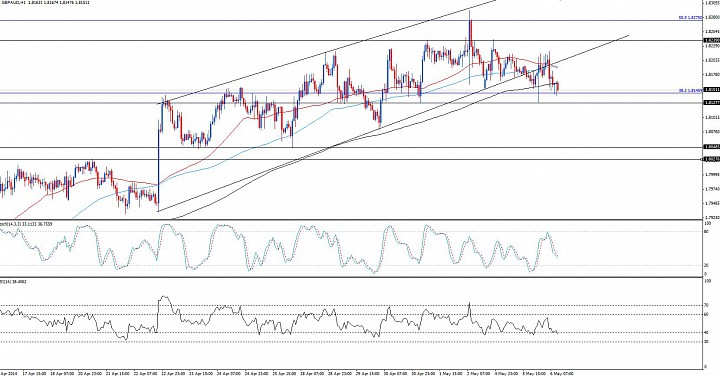 (gbpaud 1h chart, 5/6)
1) A rising trendline is broken. 
2) A head and shoulders is forming. 
Here are a few more clues we need before calling GBP/AUD bearish in the short-term. Otherwise, it is bullish-neutral, and has upside risk toward 1.84-1.8405, 61.8% retreacement.
1) First of all, price needs to fall below 1.8125 to establish a top. 
2) RSI in 1H and 4H charts break below 40. Preferably at least the 1H chart pulls the RSI below 20.
3) Next time the 1H RSI comes back up, it should hold below 60. Then, we are likely looking at a bearish outlook with the 1.8025-1.8050 area as the first key support, and then the 1.7925 support pivot.