It's not been a good week for oil safety in America. Following the derailment earlier in the week, CBS now reports an explosion at Exxon Mobil's Torrance, California refinery occured at 850amPT...
*TORRANCE FIRE DEPT RESPONDING TO EXXON MOBIL REFINERY: CB
*EXXON SAYS EMERGENCY PROCEDURES ACTIVATED AT TORRANCE REFINERY
*EXXON TORRANCE SAID TO HAVE EXPLOSION IN FCC
While dismissed as 'normal flaring' to begin with, Exxon has confirmed it is not and evacuations have been ordered as ash is falling up to 3 miles away.
As Reuters reports,
Students in about 30 schools were told to shelter in place after a possible incident at Exxon Mobil Corp's (XOM.N) Torrance, California, refinery on Wednesday, a report on the CBC Los Angeles news website said.

 

A separate report with ktla.com said residents reported hearing an explosion from the direction of the refinery and that the refinery was working to control a petroleum leak.

 

In a filing with state pollution regulator, the 149,500 barrel-per-day Torrance refinery reported "an incident" that caused flaring at the refinery.

 

The company was not immediately available for comment.
*  *  *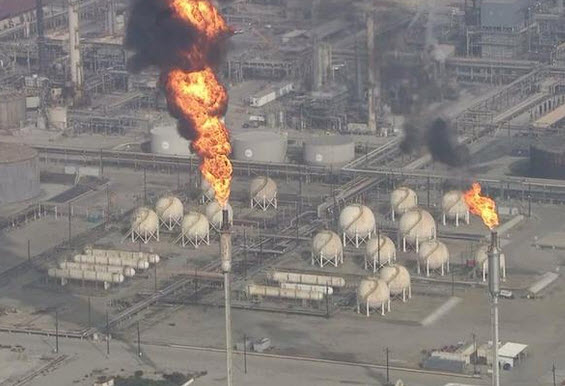 Live Feed: (embed non-functional - click image for feed)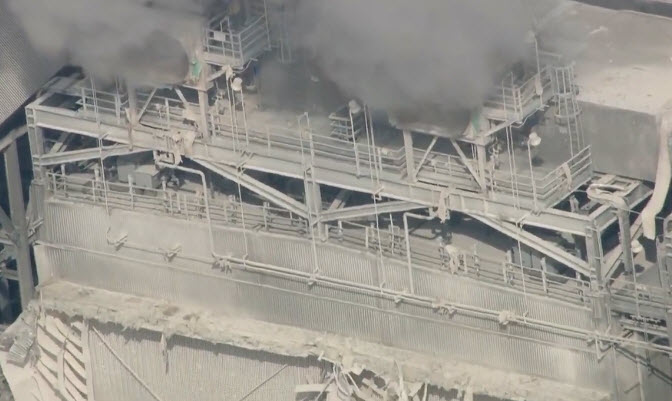 * * *
RT

https://twitter.com/ABC7

TORRANCE UPDATE: Exxon Mobil Refinery suffered some structural damage following blast http://t.co/TEB5qBhfYt pic.twitter.com/neD3hQ43jP

— MsMNaomi (@MissMNaomi)

https://twitter.com/MissMNaomi/status/568108796700020736
UPDATE:Petroleum leak prompted activation of

https://twitter.com/hashtag/Exxon?src=hash

's flare system. 'That's normal'-Capt Deuel pic.twitter.com/4dxsdSFkCi http://t.co/CZSszHQBNt

— CBS Los Angeles (@CBSLA)

https://twitter.com/CBSLA/status/568108724243468289
https://twitter.com/PVReiki

explosion reported at

https://twitter.com/hashtag/Exxon?src=hash

plant in Torrance. Im near beach 3+ miles away. Ash covering vehicles now. pic.twitter.com/ylI3ZEff36

— William C Albert (@WilliamC_Albert)

https://twitter.com/WilliamC_Albert/status/568108550246895616