The EasyAcc DP-200 Bluetooth Speaker provides great sound quality at the same time as staying very portable! Let's see if it is worth buying!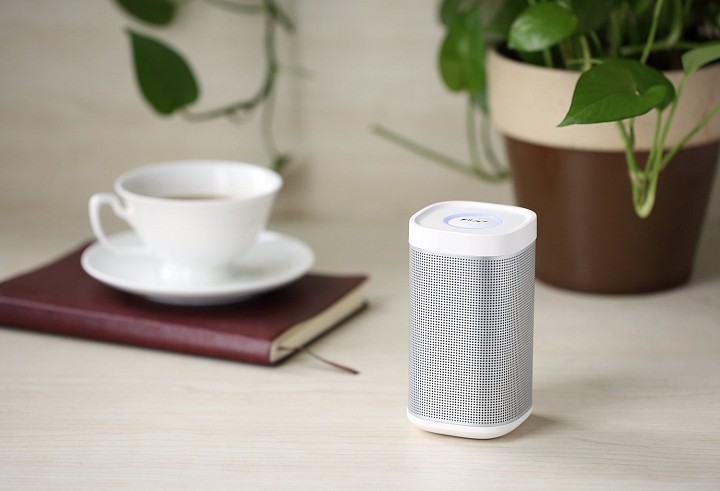 So starting of with the build quality, I would just like to say that this speaker is very durable and doesn't have any cheap feeling to it at all. I feel like that if I dropped this speaker (depending on the floor) it would hold up perfectly well and would still operate correctly. Not only does it have a strong exterior, but it also has a very fancy look to it. The silver speaker grill and the white top and bottom mesh perfectly together to form a very stylish product.
Now none of the above really matters unless it functions well. But again! - EasyAcc did a great job at embedding functions and features into this speaker. The power button, skip to previous and next track, and volume buttons are all combined into one little tiny slider that is barely noticeable! On the back there is also a 3.55mm audio jack and a micro usb port for charging. On top of the speaker we have a multi functional button that doubles as a play and pause button and a call button. The top button can not only answer calls or pause and play tracks, but it can redial the last number called as well!
Now again, none of the above truly matters unless the speakers sounds good! And as you may have guessed - Again EasyAcc designed one heck of a bluetooth speaker! The tones are very balanced and there is definitely some bass to this speaker. Of course everyone has a different preference, but to my ears it sounds perfect! This speaker also fills any decent sized room very nicely and is definitely loud enough to fit my needs!
The speaker is easy to pair over bluetooth and if you have a device that doesn't support bluetooth, they even threw in a 3.5mm audio cable for you!
So what more is there to say? All around this speaker fits my needs perfectly and I would definitely recommend giving it a try! And yes, I did receive this from EasyAcc to review, but in no way does that alter my review! All of my reviews are fair and impartial and I have to say, this speaker is amazing!