Instructure provides cloud-based learning management platform for academic institutions and companies. The company went public a week ago and we didn't see any significant jumps of falls. Although the stock grew up from initial $15.90 to $17.75 (+11.6%).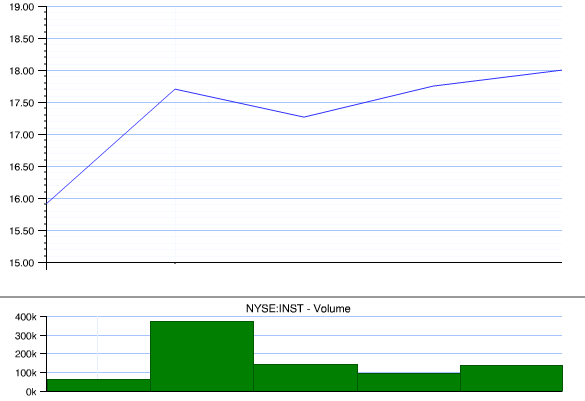 Source: CapitalIQ
In order to check the financial and operating metrics I looked into the company's prospectus. I underlined the following interesting things for me:
The company itself is growing, revenue increased 68% for nine months ended September 2015 compared to the same period last year;
The company changed the structure of costs. For example, Sales and marketing costs grew up from 72.95% of revenue (September 2014) to 74.53% (September 2015). Research and development costs declined from 39.8% of revenue to 33.9%. As we can see, the operating expenses were less if we compare them as % of revenue. This is a good sign, especially for the small-cap company. It means that Instructure is going to increase the product marginality and, therefore, get the positive EBITDA and EBIT;
Instructure had 1,600 customers as of September 2015, it means that nine months ARPA was around $32,122 (+50% compared to the last year), while the cost of revenue per customer was around $10,733 (+30% compared to the last year). The problem is with marginality, if we compare the margins per one customer (I usually take the ARPA, COGS, Sales and Marketing and RD expenses) dropped down from -$10K to -$13.5K. 
As well as other small-cap companies, Instructure has some problems with margins. However, we see that the ARPA's growth rate is much higher than the growth rates of expenses, so I assume that the company could be a good investment. It could too risky and tricky, especially in such competitive e-learning market, but Instructure's product is something different. 
Do you want to take some risk and invest in this company?