What happened
Domino's Pizza Inc. (NYSE: DPZ) has been one of the best-performing stocks since the recession and that streak has continued into 2017. According to data from S&P Global Market Intelligence, the stock has gained 31% thus far this year. 
As the chart below shows, the gains came in two spells: one in the beginning of the year and another in the spring.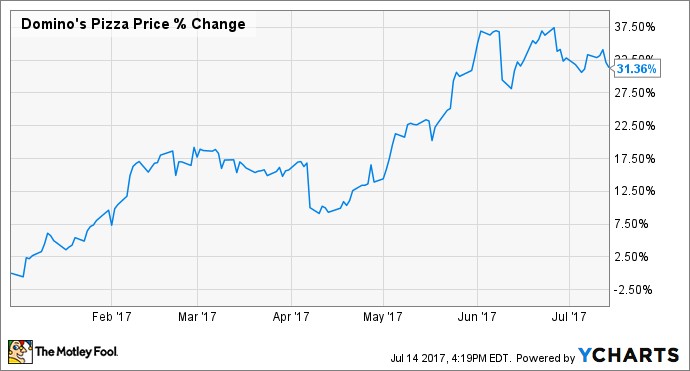 So what 
The pizza delivery leader came into the year with momentum from 2016 after gaining 43% last year. While there was little news out on Domino's in the first two months of the year, the stock seemed to climb alongside the S&P 500, which gained more than 7% in the first two months on enthusiasm for the Trump agenda. As a company dependent on discretionary spending, Domino's stands to benefit from continued economic growth.
In its first-quarter earnings report on Feb. 28, Domino's posted blowout domestic same-store sales growth of 12.2% and a 4.3% increase in international comps. Revenue grew 10.6% to $819.4 million, and earnings per share was up 25.4% to $1.48.
Those figures beat estimates of $782.2 million in revenue and $1.44 in EPS, and the stock rose 2.4%.
Shares fell 6% in a single session in April based on a research report that indicated first-quarter weakness. That proved to be wrong, however, as the pizza giant again posted strong growth in the first quarter. Domestic comps were up 10.2%, and EPS jumped 42% to $1.26. The stock gained 2.5% on the news, and began rallying to nearly $220 over the following weeks.
Now what 
Domino's has been an undeniable success story for investors, and its double-digit domestic comp growth is the envy of the restaurant industry, especially at a time when industrywide comps have been falling due to the "restaurant recession." The company's delivery model benefits from the "stay-at-home" economy, and it has ample opportunity to expand abroad as the pizza delivery concept has been proven around the world. As long as comparable sales keep flying higher, I'd expect the stock to outperform.
10 stocks we like better than Domino's Pizza
When investing geniuses David and Tom Gardner have a stock tip, it can pay to listen. After all, the newsletter they have run for over a decade, Motley Fool Stock Advisor, has tripled the market.*
David and Tom just revealed what they believe are the 10 best stocks for investors to buy right now... and Domino's Pizza wasn't one of them! That's right -- they think these 10 stocks are even better buys.
Click here to learn about these picks!
*Stock Advisor returns as of July 6, 2017

Jeremy Bowman has no position in any stocks mentioned. The Motley Fool has no position in any of the stocks mentioned. The Motley Fool has a disclosure policy.