Have you been watching this saga, um? There are some reasons to consider NVS as a Buy.
Fundamentals
After the recent drop due to Novartis earnings being volatile and below expected the company is now being traded at a discount. The reasons to think so are
P/E of 26.24 vs the industry average of 29.75
P/CF of 16.6 vs Peers' 22.54
P/B of 2.8 vs Peers' 6.5
P/Sales of 4.3 vs Peers' 27
Isn't it enough for a while, huh?
Well, even apart from P/E and P/B multiples that have been well below the industry averages for at least last 2 years, these are Novartis' strategic moves that make it a reasonable investment to consider. After recently completed transactions with GlaxoSmithKline plc Novartis is now open to new dives into its 'key growing business segments', according to the company's CEO, Joseph Jimenez. The projected outcomes include further growth in margins and more distinct positioning considered as a base for a potential increase in sales. These two are hopefully giving grounds for a better EPS to be awaited.
Technical Analysis
MACD indicates that the stock was in a strong buy position during October; currently it is not very certain.
<!== INSTRUMENT %% %1440% ==!>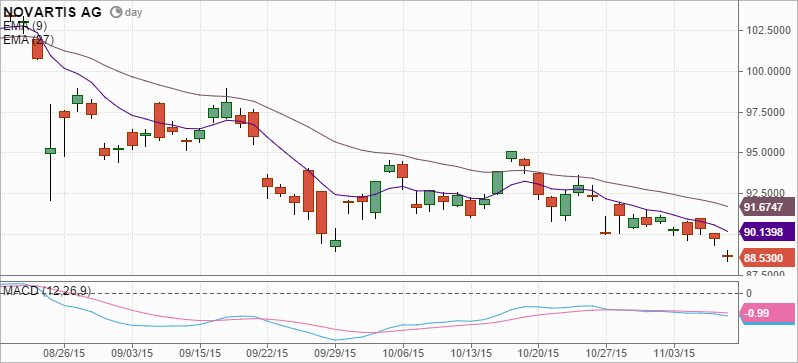 CCI currently is below zero, however, before that it was positive, which indicated a good long position.
<!== INSTRUMENT %% %1440% ==!>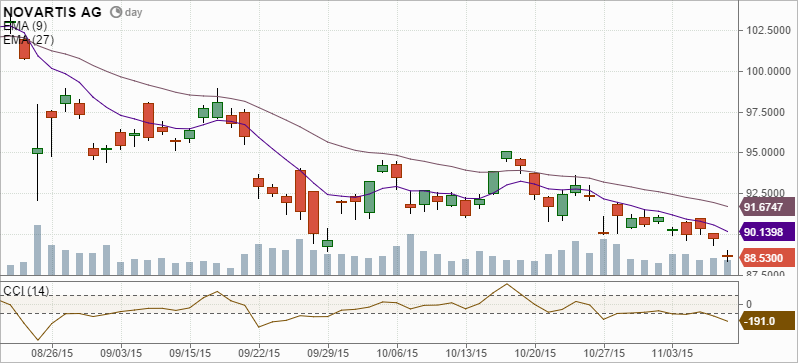 Peer Group
| | | | | |
| --- | --- | --- | --- | --- |
| Company | Market Cap ($M) | P/E | Net Sales ($M) | Net Income ($M) |
| Novartis AG | 242 | 26.24 | 50050 | 18220 |
| Pfizer Inc | 210.6 | 25.49 | 47922 | 8361 |
| GlaxoSmithKline plc | 204.4 | 6.95 | 48822 | 14764 |
| Merck & Co | 155.1 | 14.7 | 39765 | 10781 |